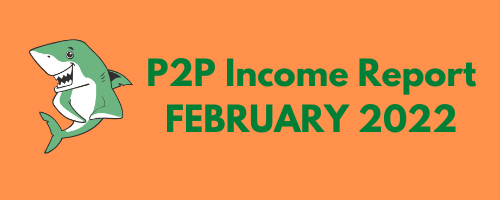 Income Report February 2022
February has probably been the month where everyone was reminded of the covid crash. Also the stock exchanges did not reacted the way they did in March 2020, it was interesting to see the correlations. But also for P2P industry the consequences have been noticeable. Let's go into the details.
In the end of January I had some days off, when I headed to Tenerife. That was nice and relaxing, also it was only a small share of what was plannend. From my point of view it is better to enjoy three days instead of nothing. Therefore I had a great time to be honest 🙂
After flying back I worked from home again. For some reason this is not what I was dreaming for. I need my office. I need the sourrounding and especially the distance to my home to stay focussed. So I am quite happy that all the covid regulations will be skipped by the mid of March and I am able to return to the office again.
Let's get into the details of February2021
Well, to be honest it started with a shock, when I checked my Twino account. I had -8,50 EUR as interest income during February. As I already mentioned it in my last report from January. This loss is caused by the russian Rubel, which lost a lot.
What made a winner last year when those loans performed great due to the exchange is now making me a loss. Nevertheless – it is okay. But that is something I should keep in mind for the future, because about 60% of my Twino portfolio are russian loans.
Let's have a first look at the numbers for my Focus Four:
Bondster's current status: 88,64% (+31,24%)
Lime Zaim and Kviku Finance are two loan originators from Russia publishing their loans on Bondster. As a reaction to the Russian Ukrainian war Bondster suspended all loans from their platform. Investor who already invested into loans from Kviku and Lime are able to sell them on the secondary market – or keep them. As you can see I am invested with 41% in Kviku loans from Russia.
So, what to do and what is right?
I think there is no right and wrong. For my part I will do nothing and stay invested. Bondster already closed the gates for russian loans, wherefor I will not be able to invest money into it via the auto-invest. So my share of russian loans will stay the same and will not increase. It is about 1.000 EUR of my invested capital at risk. This aint nice, but that is the risk which hit me also on Bondster.
Bondora's current status: 34,96% (+1,40%)
Bondora increased slightly over the month. Beside their pretty interesting Q&A on Youtube nothing changed to be honest. Pärtel once again told the audience, that there is no direct business with neither Russia nor Ukraine, wherefore investors should be procted from direct influences. Macroeconomic circumstances like the rising inflation will always be present. But there is no way to protect loans against it.
As Bondora performes pretty good and is not really influenced by the war, I will push them a little bit more through March. I do not want to stop investing, also I adjusted the relation between P2P and stock exchange a bit. But only of the savings rate from my salary – nothing more. Therefore I will choose to invest with Bondora a bit more this month and use the situation as I think it might be a chance to step forward here.
Interest in investing with Bondora? Check my Bondora Go and Grow review here.
Reinvest24's current status: 29,08% (-9,16%)
Puh, Reinvest24 – to be honest I am excited to see what will happen over the next weeks and months here. Most of the real estate loans are from Moldova, which has a border with Ukraine. This does not make me happy. But once again this is a part of the game.
Meanwhile there have been three projects exited. Everyone of them was repaid in full including the interest rate. I invested the principal as well as the interest again into two projects from Moldova and one from Spain.
Robocash's current status: 97,04% (-6,32%)
Unfortunately Robocash did not hit the target again in February. But they only missed it by less than one Euro. Also some of the Robocash team is situated in Russia the company itself is from Croatia using a latvian bank. There were several rumors in Telegram groups whereas Robocash is russian an affected by the sanctions – for investors there are not influences at all.
To the Robocash team I am sending all the best to stand this tough situation. I am not taking any of the sides in this war, as we are blogging about investments here. But still we are talking and communicating with people, who should not be blamed for anything.
Do you want to know more about Robocash? Check out my Robocash Review here.
Review of last month
Well, following some financial bloggers a lot of them quoted losses during February and March until now. The stock exchanges lost worldwide and it is not really surprising – therefore it should not be surprising that the P2P industry is affected somehow.
My personal portfolio is influenced from several platforms where I invested in russian loans. Regarding the wider range also Moldova, Kazahkstand and even the Baltics are somehow pretty near to the war. So the risk to lose which might also become a bigger loss is pretty present.
Looking at my overall numbers, also beside P2P lending, I am still in a good spot compared to the stock indexes. I will not complain, also when I am getting dumped into the loss.
P2P platforms to mention
As there is more than only those Focus Four platforms, I would like to mention the rest also in a short notice:
After I increased my investment here the interest payments are rising. In February it was only 0,26EUR, but due to the investments made this was only a small payment. I will let you know about the March status, as soon as I prepare the March Income Report.
Here you will find my blogpost about the introduction of Income Marketplace.
DoFinance: 0,00 %
No words needed – still sucks.
As I mentioned the month before I expect Debitum to go back to around 9%. Exactly this happend and I am not unhappy with it. Especially during the finfellas event Sergei was able to show how fast they are growing and additionally adapting what is necessary to work along the guidelines of a regulated platform. Meanwhile Debitum launched their first Asset-Backed-Securities (ABS) as a new investment product.
Viainvest performed good again. My investment here is still only 550EUR. Well, nothing more to say here 🙂
Honestly, usually this number above should have been in red again. Somehow Twino managed to prolong the loans, whereas 6,95EUR of fx-loss are pushed into the next month.
Once again no payment here. As the loans are all repaid at the end of a term including the interest payment this is nothing to worry about.
Moncera is working constantly on a certain level I like. The interest rate bounces around a corridor of +/- 0,5% which is great from investors point of view.
If you want to know more about Moncera, please go to my platform-check!
What is up for me next month?
Through my P2P News every week I get the intention of knowing quite a lot about the market. That makes me feel more safe regarding my investments, also the news have not been great over the last weeks. However, my focus is to watch the P2P industry and stock markets to search for chances.
Beside that there are three projects I need to finish until the mid of 2022. That will take quite a lot of time and I will be happy to report about the first success here in my next Income Report.
https://p2p-lending-at-its-best.com/wp-content/uploads/2022/03/P2P-income-report-february-2022.png
200
500
Tobias
https://p2p-lending-at-its-best.com/wp-content/uploads/2019/05/logo-190522.png
Tobias
2022-03-13 07:03:20
2022-03-14 10:36:02
Income Report February 2022