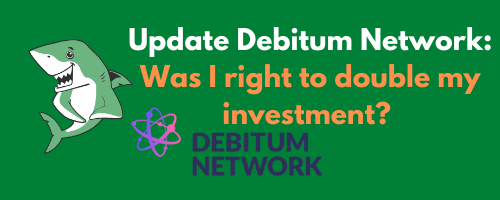 Update Debitum Network: Was I right to double my investment?
Debitum Network is a good known P2P lending platform. After I started my investment here back in 2019 I want to give you an update about it today.
In my eyes the performance of Debitum Network is amazing. And this is why I doubled my investment here. In this post I will show you why I did so and give an update on the platform.
My last Debitum Network review is dated from May 2019. In the meantime a lot changed at Debitum, which I would like to cover in this post today. But let's get back to 2019: Why do I invested on this platform?
I wanted to add business loans from another marketplace into my P2P portfolio.
Where has Debitum Network been back in 2019?
When I started Debitum Network was some kind of "insider". With only about 2.000 investors the marketplace was pretty small compared to for example Mintos or Bondora. Also their published loan volume was quite small in comparison to the whole market, wherefore the overall market share was nothing to mention. It was only a number of 692k€ invested in May and an overall investment of 2.5m€.
As Debitum Network focussed on business loans I was highly attracted to the platform. Until then I was just invested into business loans via Mintos. The share was pretty small and the focus of Mintos has always been consumer loans – not business loans. So why not try a marketplace positioning itself as experts in that field of business loans?
Right – there was no reason against it. In June I met Martins Liberts at the P2P conference in Riga where we had a chat about the platform.
How does my 2-Years-Review look like?
I started small on Debitum and increased my investment up to nearly 500€. That is nothing being a solid base for my financial freedom. But as I mentioned in my review from May 2019 I will check and increase my investment, when things turn out like I want my money to work for me.
Today I am still investor on Debitum. So it looks like things turned out as planned. But the road has not been that easy as it looks like. Therefore I would like to split my review into two parts.
The first one will be about the time until March 2020 and the second one about the time from then to now. I think it is absolutely legit to split it as Debitum was able to perform at an insane level during the covid pandemic.
May 2019 until March 2020
I do not really remember, but I think I started my investment with 250€. Back in 2019 the minimum invest was at 10€ per loan. Quite comparable to market conditions. It took only one day to auto-invest the money. From then on it was working for me.
Until March 2020 I increased the investment slightly to about 500€. Still nothing serious, but for my personal investment portfolio this step was the gratification for good work.
Reading my income reports you could have noticed that there were two things I mentioned often: Late payments and a lot of financing loans.
Still today the amount of forecasted interest payments and paid interest differs from each other. Sometimes the difference is up to 50%+. But please be patient as my portfolio is very small and the numbers are not representitive.
About the financing loans. Wanting to invest into business loans was essential for me. So when Debitum increased their share of financing loans pretty high I was a little bit wondering. I then decided to not invest more trying to keep my diversification in my portfolio.
March 2020 until August 2021
When chaos break lose in Europe, also Debitum Network was affected by the covid pandemic. in a retrospective you are able to see, that the published volume drops down by 50%+ on the platform in May and June 2020. But already in July 2020 Debitum kicked ass again and published more loans than before (1.8m€ in July versus 1.6m€ in April).
During the rest of 2020 and 2021 the volumne has always been at least the double amount of their "crisis times". In their July statistics from 2021 the show peaks in May and July up to 3m€ in this graphics.
According to several webinars and talks Martins Liberts joined investors know, that Debitum Network never faced the problem of the bankrun. There are simple reasons for it as the marketplace is by far not that liquid a Bondora or Mintos. Therefore investors struggle to take their money out instantly. Checking the stats of that time the overall amount of investment INCREASED during that time.
Of course you are able to see some kind of plateau around May to July, but still the amount increased. From September 2020 the deposited amount skyrocked. Within one year Debitum Network increased the money deposited by 238% – during crisis times.
What has changed at Debitum Network?
Already some weeks after my last review the user interface was updated at the P2P lending platform. Things got a little bit clearer. But mainly I would point out the possibilities of checking your data like your portfolio, the shares and of course the single investments. For those of you interested in these details there is a lot to play with.
Something what is essential and changed is the minimum invest per loan. It increased from 10€ to 50€. The reason therefore was pretty simple: The costs per loan are minimized as it took Debitum 5 times more work with a minimum of 10€. Additionally the minimum invest on the platform was increased to 500€. What is that for?
There are huge platforms like Bondora and Mintos who are publishing a lot of loans – and also have a lot of staff. Debitum Network is ways smaller. Therefore it was a understandable decision to lower the costs by increasing the investment amounts. I mean in the end it comes down to the investors decision: Do I trust Debitum? Than why not invest bigger and diversify the same way as before.
For those who are not interested and maybe only storing 100€ in their account it gets more difficult or even impossible to follow investment rules concerning diversification. Reasonable Debitum Network maybe do not want to have those investors as their clients.
There is logically only one decision to make
Within my investments I always try to follow the common rules like "invest without emotion" and "only invest in things you understand". I do understand what Debitum Network is publishing on their marketplace. Additionally I am highly convinced, that the platform is doing a very good job.
What does "good job" mean?
From the view of investors it is mainly no cashdrag and a good interest rate. I am able to accept those late-payment, as there has been no case of default loans until now. Concerning the interest rate those late payments cause a decline. In my personal books Debitum Network is 8,14% – Lars noted 9,12% in his overview. That is differs a bit from the XIRR in my account of 9,4%.
Summing all of those facts up there is only one answer to the question "What to do next?": Invest!
This is what I did in May when I doubled the amount in my Debitum account. Now it is roughly above 1.000€. And those who are reguarly following my income report know, what Debitum Network is on my focus list for the next step. This will propably happen during 2022, whereas the task is to invest as much to receive a monthly interest payment of 25€.
https://p2p-lending-at-its-best.com/wp-content/uploads/2021/09/update-debitum-network.png
200
500
Tobias
https://p2p-lending-at-its-best.com/wp-content/uploads/2019/05/logo-190522.png
Tobias
2021-09-19 07:03:02
2021-09-27 03:42:07
Update Debitum Network: Was I right to double my investment?