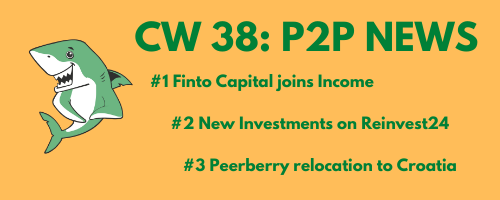 CW 38 – Top #3 P2P News: Income on SeedBlink + New Reinvest24 investments + PeerBerry relocation
Peerberry relocation to Croatia, Income with a new loan originator und a crowdfunding campain and new investment projects on Reinstvest24.
Welcome to another short overview of the hottest P2P News during the last week. I picked those Top 3 which I are either highly interesting for me and/or for the whole P2P lending business. So let's dive into this weeks Top 3 News.
#1 Income Marketplace Growth X2 – New LO and SeedBlink campaign
The first news is divided into two parts. Both of them will help the platform to grow. Over the last weeks and months a lot of bloggers and people reported about Income, just like me. This is great to hear, but new investors on their platform caused that there were not enough loans at any time.
So first news: Income Marketplace welcomes Finto Capital SIA from Latvia as a new loan originator. In their blogpost about those news Income wrote:
Finto is a rapidly expanding Fintech lending company from Latvia, providing leasing services for private individuals, mainly focusing on second-hand cars.
On their "About Us" page Finto introduces themselves shortly the following way:
Finto was registered in 2016, but started paying taxes in 2019. There is only a very few information about them on the internet. Behind the company, which is registered with 425.000 EUR are mainly mentioned two companies: "Bery Investments" and "Finbro Holding". Never heard of them. Let's see, how Finto will perform on Income.
And the second news are: Income will publish a crowdfunding campaign on SeedBlink.
We will use the proceeds to expand the team, continue product development of our mobile app, and create a better overall user experience on the platform. We also seek to add more loan companies […]
This looks like huge plans to grow – perfect for any investor 🙂 If you want to know more about Income Marketplace, check out my Income review.
#2 New rental investments on Reinvest24
Another month and a lot of new investment opportunities at Reinvest24. After a lot of Moldovan projects where the interest rate was always nicely high, Reinvest24 managed to publish another rental investment opportunity in Tallinn, Estonia. The last one from Eberswalde, Germany is nearly completely funded. Due to the higher interest projects it took quite some time to fund it.
Beside the rental investment in Tallinn another 1st stage project has been published with an interest rate of 14%. Also Reinvest24 is quite "small" in comparison to other real estate platform I have never had cashdrag or any problems to no invest my money. Therefore I will of course use this investment opportunities from Estonia and Spain this month to increase my passive income.
For those of you, who do not know Reinvest24 or never heard of their business model I recommend reading their blogpost about it. Anders Olsen's "Rental projects – the undervalued investment with huge potential" is worth the time reading it. He explains why it might be interesting option to invest into real estate on a platform without owning the real estate yourself.
Click here to find out about my first experiences with Reinvest24.
#3 Peerberry relocation to Croatia from October on
In my last weeks news I wrote about Peerberry decreasing their interest rates. And this week again on the news? Yes. About a month ago Peerberry announced to withdraw they application for the IBF license in Lithuania and relocate to Croatia. Here Peerberry will transform their existing business into Peerberry d.o.o.
After the relocation of PeerBerry operations to Croatian jurisdiction, nothing changes to our investors – we remain the same team, with the same office in the same country (Lithuania), and our business partners remain the same.
Additionally Peerberry informs their investors that from October on new loan originators from the Aventus Group will enter the platform. Furthermore the P2P lending platform will continue working under the crowdfunding and EMI license.
That business model ain't new. In March 2019 Robocash announced to relocate to Croatia. And they are still there today – very successfully. So for those of you who panic about a relocation and a new banking adress this example should be mentioned. Of course I understand that new bank accounts and offices are sometimes a red flag, but in this case I guess the Peerberry relocation should not be counted as a red flag.
Up to you – What is relevant for you?
This week there have been some interesting news for my portfolio. Especially Reinvest24 is pretty interesting as it is the beginning of a new month tomorrow and new investments have to made. The Peerberry relocation – well, as I am not invested I am cool with it. In my eye this step is logical if you do not want to be regulated in the Baltics – for whatever reason.
After I made my first short review about Income Marketplace I love to read that they are expanding. Especially in their stage it is important to please new investors with enough loans, so it feels pretty right what Kimmo & mates are doing. I will wait on the sideline with new investments here, but I will definitely have an eye on them.
So, what is relevant for your portfolio out of there news? Are you able to give a short idea of your experiences with LendSecured? Just join my small Telegram Channel and let's grow it.
https://p2p-lending-at-its-best.com/wp-content/uploads/2021/09/p2p_news_peerberry-relocation.png
200
500
Tobias
https://p2p-lending-at-its-best.com/wp-content/uploads/2019/05/logo-190522.png
Tobias
2021-09-30 07:03:55
2021-09-29 10:17:50
CW 38 – Top #3 P2P News: Income on SeedBlink + New Reinvest24 investments + PeerBerry relocation