#1 Reinvest24 – The first platform of my P2P High Yield Experiment
I do know Reinvest24 since quite a while. But it lasted until now to get my first investment there. The reason therefore is simple: Reinvest24 is a smaller P2P platform, which did not matched my general P2P criterias until now. What does Reinvest24 did to match them now?
Well, honestly their business model is some kind of different from the other P2P platforms. They buy real estate projects, rent them and maybe sell them after a while. As an investor you can receive income from the rent as well as from the increased selling price (later). That is something "new" and therefore I put it on my voting-list in August. And you guys voted for Reinvest24!
In this blogpost I will show you, what makes Reinvest24 that different and how their business model is working. Of course I will tell you my plans with this P2P platform, so stay tuned – Have fun while reading it!
Who is Reinvest24?
Reinvest24 is a quite young platform from Tallinn, Estonia. It was founded in 2017 and launched in 2018 and is dedicated to the development of real estate. We are talking about residential and commercial real estate locally in Estonia, but in the long run they also want to expand globally.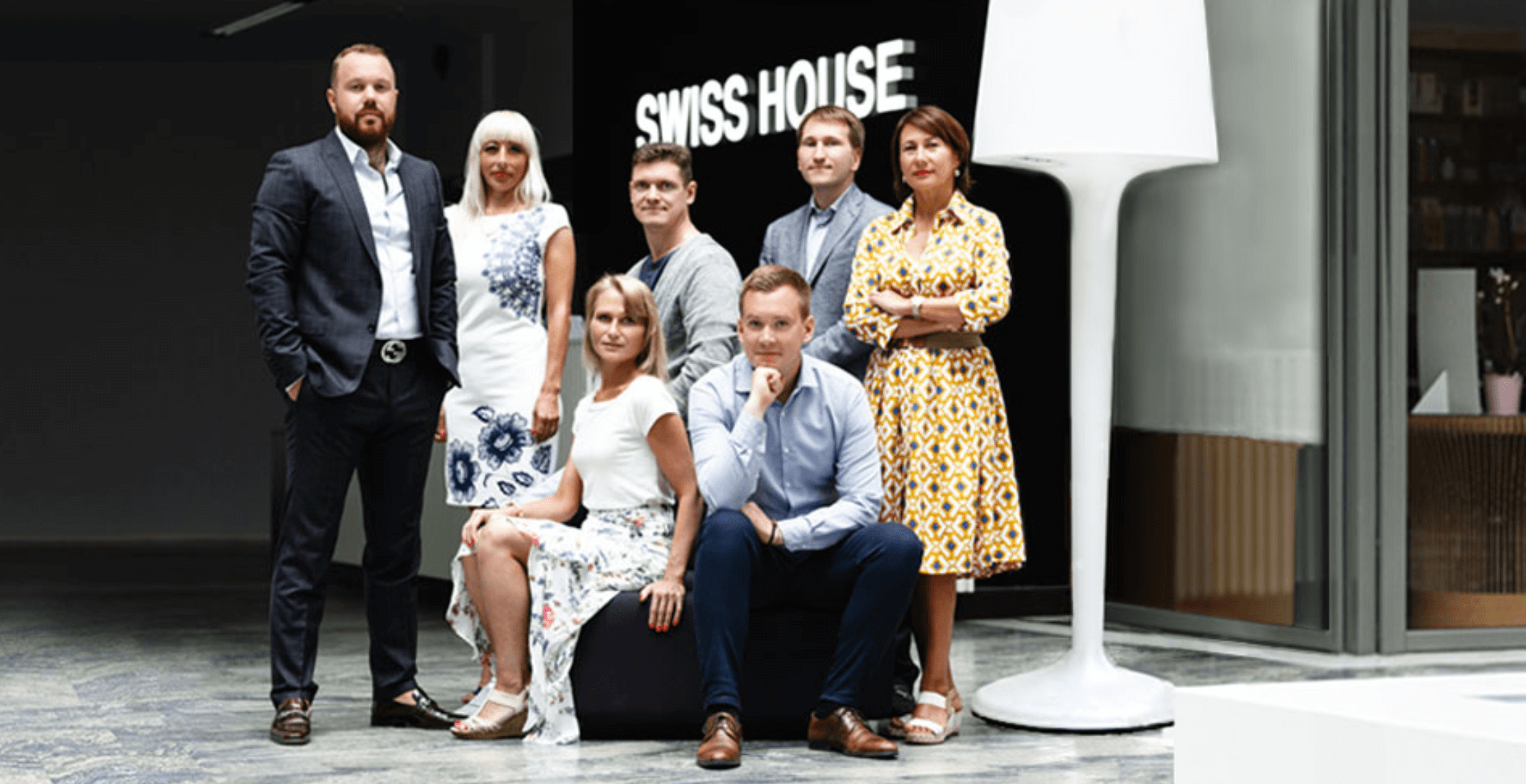 The team round CEO Tanel Orro has a lot of experience in the real estate business (since 2005). When I was in Riga last year at the P2P Conference I met Tanel and his team. They took their time and explained their business model to me, knowing I was not an investor neither highly interested. It took another year to get me in todays position to be able to invest there regulated by my own restrictions.
Currently their platform interface is available in English, Estonian, German and Russian. As you maybe know my blog, I am usually just investing on P2P platforms with a impressive track record. At Reinvest this track record lasts for about three years now. They funded 12 projects over the last years, which is quite impressive with this business model in my eyes.
But honestly I was thrilled by their possibility to diversify and their high yield during my "P2P High Yield Experiment". And that is the point where to two meet again.
What is different about Reinvest24?
Reinvest24 has different focus topics than Bulkestate or Estateguru. You do not primarily invest in loans, but are a kind of shareholder in the property itself! This means that in the end you even get a share of the current rental income paid out. You also participate in the increase in value of the property itself. Of course, only if there is also an increase in value

However, the minimum investment on Reinvest24 is quite high compared to simple P2P platforms and even compared to the two platforms mentioned above, Estateguru and Bulkestate. You are able to invest from 100 EUR per project on. In return, you don't usually have simple loans that can be cancelled, but you are involved in a property that the platform generally wants to keep for the long term. And this is exactly what makes the platform so interesting for me. Passive income from rents in the Baltics. Sounds good, doesn't it?
By the way, investors from all over Europe can buy shares in the properties. If a project is completely financed, Reinvest24 buys the property from the current owner. Already in the following month all investors should receive the first rental income.
Functionality of the Special Purpose Vehicel (SPV)
And here comes the next special feature of the platform. Each project is a self-contained legal entity, a so-called SPV. It represents and manages the property owned by Reinvest24. However, you do not invest in the SPV, but you are a shareholder of a mortgage.
Due to the structuring into individual Special Purpose Vehicles, the projects are completely independent of each other. You can find more answers on the topic of SPVs in the FAQ of the platform itself.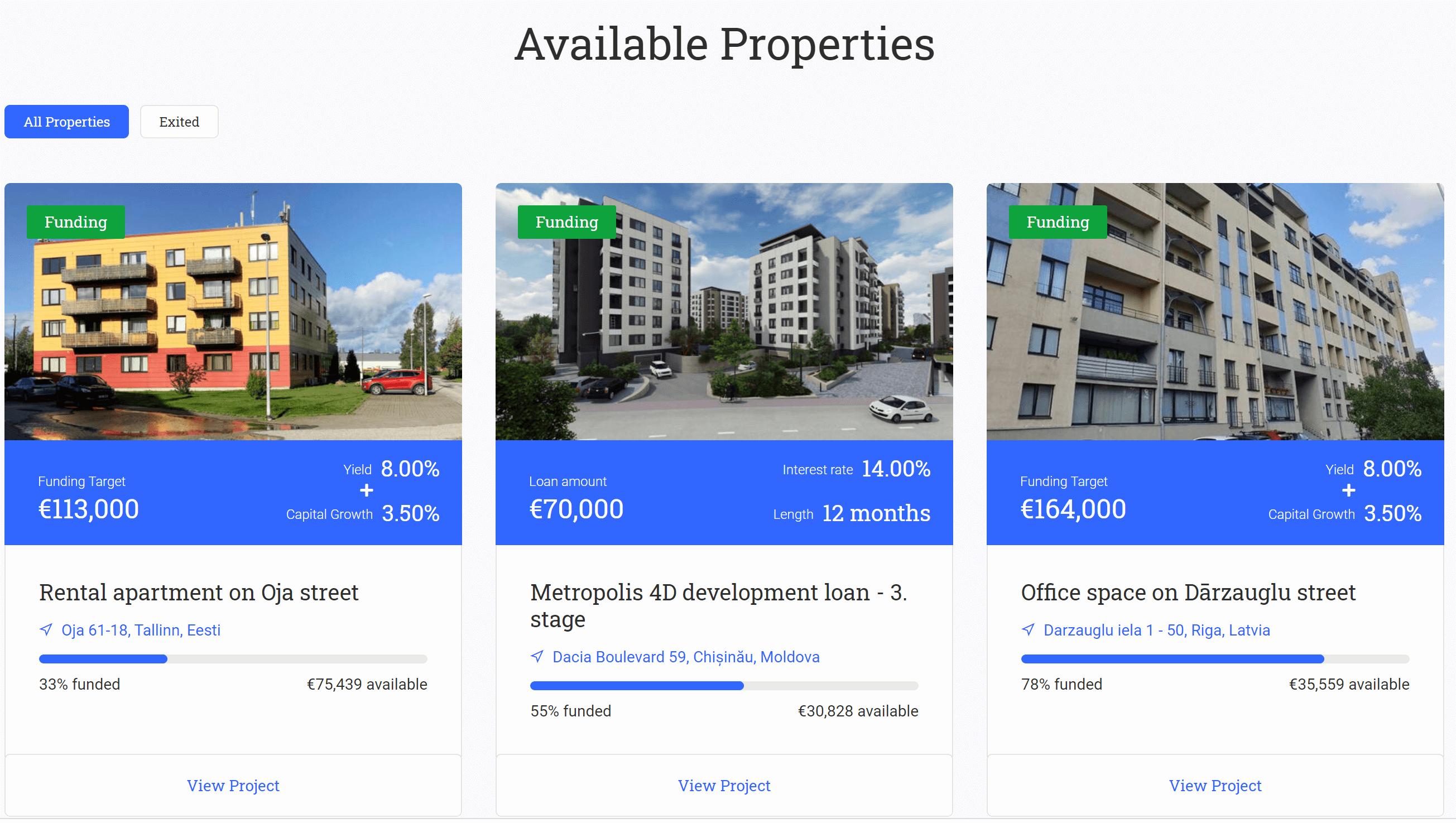 How do you invest on Reinvest24?
After registering on Reinvest24, where you have to verify yourself with your identity card or passport via KYC procedure, you can start investing. Provided, of course, that you have deposited money into your investor account. As always, the SEPA procedure is very straightforward. The investment process on Reinvest24 is quite simple. Via the "Properties" tab you can access the currently available offers.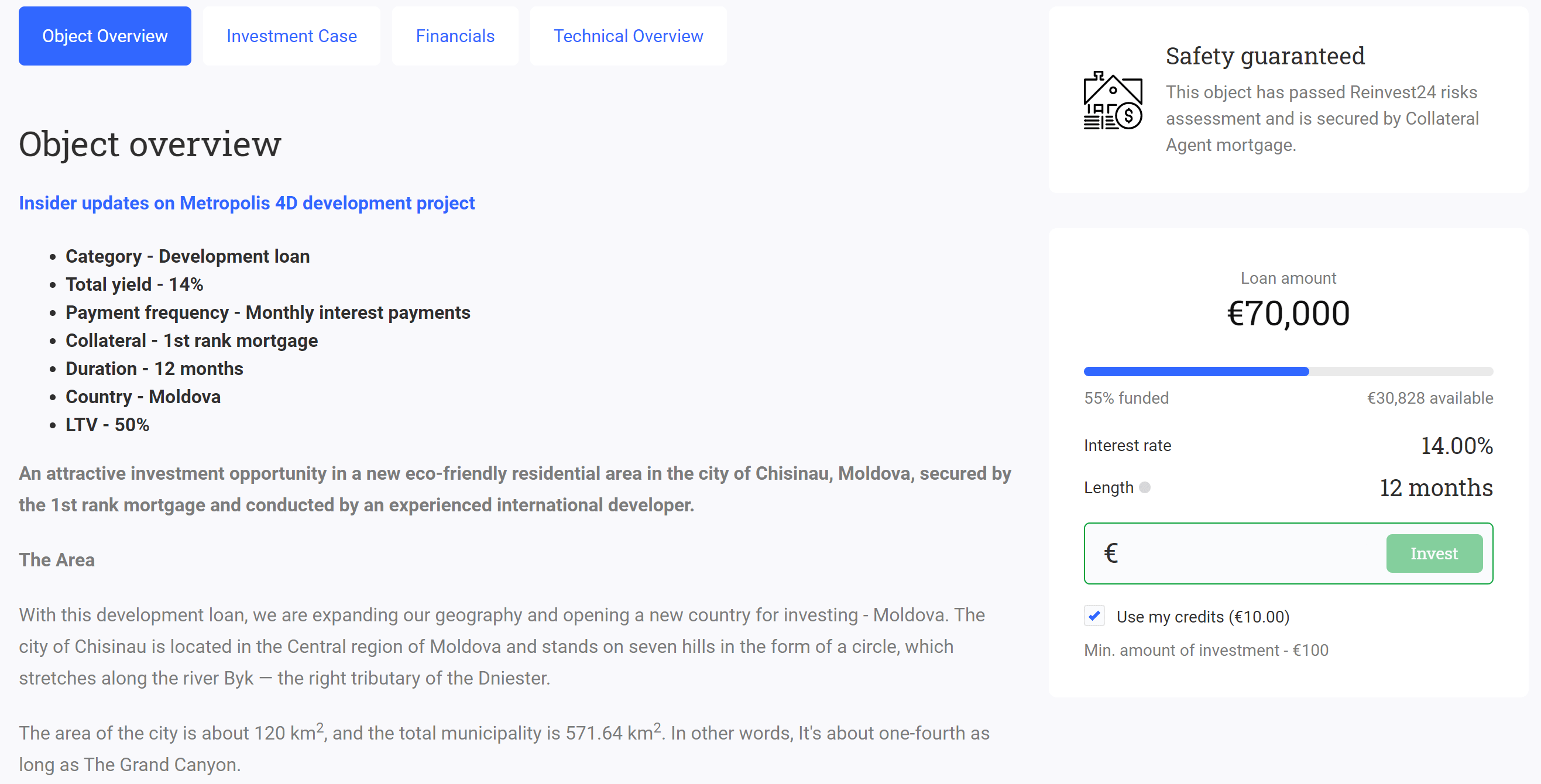 If you click on one of the properties, you will get a very detailed description of the property with location on Google Maps, floor plans, the investment case, the share split and of course many pictures. If you like the property, you can invest on the right side. And if you really like it, you can visit it within your next stay in Estonia.
And one more difference: Reinvest24 costs money?
Reinvest24 is one of the platforms where you as an investor are asked to pay. Meanwhile they cut their costs from 2% to only 1%. This amount will be deducted from your investment directly. So from the minimum invest of 100 EUR, "only" 99 EUR will be left.
And there is more to come. 10% of the rental payments are retained for administration etc. That sounds like a lot of money, because we are spoiled by the 0% P2P platforms, but it makes sense and is no problem for a long term investment.
What is the difference between Net Yield and Gross Yield?
In the screenshot above and also in the overview of the objects you can always see Net Yield and Gross Yield. So what is the difference between them?

Gross Yield is the gross yield and an estimated annualized percentage that your money can earn on an annual basis, exklusive of the increase in value of the property. It is calculated on the basis of completed or pending leases.
What risks do I have?
The risk is obvious here. You are a shareholder of a property and you earn money from the increase in value. Of course, there is not only one way, but there is always the possibility that prices will fall. From time to time you will also find credit financing on the platform, which carries the known risks. However, the sum is, as already known, also secured completely or partially with the real estate itself.
Another big risk is the loss of rent, which is quite logical. If a tenant misses a payment, there is a penalty fee, in the second month Reinvest24 cancels the contract and re-lets the apartment. In order to cover a non-payment, the platform retains a deposit of varying amounts, as is customary with us. Usually normal 2 – 3 month rents. Another safety factor is the fact that the real estate usually consists of several residential units, so you rather don't have to expect a total loss. Consider also that a loss of rent means a loss of income for Reinvest24!
During the corona virus times also the Estonian law changed a bit to give tenants a better chance to cope with their liabilities. I am not to far into those laws, but in the end Reinvest24 covers their risk from investors as well as they let them participate on their rental income.
How do I earn on Reinvest and how much?
First of all there are two ways to earn here. First you will receive your share of the rental income – monthly. As long as the project is rented you will receive your share.
Additionally and second you will participate from the win, when the project is sold. This of course makes it necessary that there is a win. But there Reinvest24 is a cool team out of real estate experts from the Baltics which I completely trust to make the most out of my money.
How much you earn is very different and depends on the project. On the "Properties" page you can view current and past projects and also their interest rates. Current projects are between 13 and 14 percent, but there have been more (but also less) in the past. In your profile you can see the development of your income over the years. Reinvest24 itself states a platform yield of 14.6%. This value includes the net return + capital growth.
Is there an Auto-Invest?
Currently there is no Auto-Invest available. It is somewhere in the planning, but has not got the highest priority. And this is absolutely understandable, as Reinvest24 currently has some more than 10 projects. So investing manually after you receive a mail including the data of a new project is still fun.
Am I able to sell my shares on a secondary market?
Yes and no – it is still a project and will come, but until now there is no seconday market. But this is okay so far, I think. When there is any problem for example with the P2P lending market, a lot of people want to sell their shares. So therefore this secondary market seems to be just liquid in a small way and just during normal times.
Information policy and insights of Reinvest24
I wrote about this fact earlier in my blogposts. Providing good information, also when they are bad, is one of the key facts to convince me from an investment (or not). And here Reinvest24 belongs in my eyes to the leaders on the P2P lending market.
There are regular blogpost about topics and from time to time there are webinars or Youtube interviews, as you see below. So the team is not doing their stuff somewhere in a hidden room, but they inform investors about what is going on.
Additionally Tanel is quite close with several bloggers and other CEOs from real estate platforms, whereas an open information exchange for investors sometimes takes place.
Reinvest24 is unsual and quite cool
Honestly, meanwhile the concept of buying, renting and selling is not really new to the P2P lending market. Brickstarter does their AirBnB Business in spain quite similar as well as for example BitOfProperty does it in Estonia.
But checking those P2P platforms focusing on this business model Reinvest24 is doing a great a job in the Baltics. And here they belong to the leadings P2P companies dealing with real restate. So let's try to sum the P2P platform up with some advantages and disadvantages I am able to see at the first sight:
Disadvantages:
#1 No Auto Invest
#2 The costs are understandable, but for my yield it is a disadvantage
#3 Their track record is just three year
#4 You invest in a property, but receive shares from a SPV
Advantages:
#1 Passive income through rental income
#2 Great addition to the P2P portfolio of consumer credit platforms
#3 Dedicated and experienced team
#4 You also participate in the value increase of the property
#5 Self-contained legal entity (SPV) for each property
#6 Preliminary conclusion on Reinvest24
#7 Conclusion about Reinvest24
#8 Their communication skills and information habits
Reinvst24 in my experiment
As I already mentioned Reinvest24 is part of my "P2P High Yield Experiment". But before adding those platforms to my list I made a personal "due diligence" and sorted those ones out where I don't want to invest in. Also Reinvest is quite young and not very liquid, I am sure my money is in safe hands over there.
I am looking for passive income. And of course passive income from rental projects is interesting as well as a nice diversification to my P2P portfolio. This is why I am really happy Reinvest24 made into my Top 4 platforms in my experiment.
As the minimum invest is 100 EUR, I will just transfer 100 EUR every two months to this platform. That might be disadvantage for my personal yield, but that is okay.
I will continue to be in close contact with the platform and will certainly visit the offices during my next visit to Tallinn. So feel free to forward me your wishes for Reinvest24 or write them in the comments. If you would like to support my blog and me and accompany me on my investment experience on this platform, you can do so by registering with Reinvest24 via this link.
Welcome to my P2P portfolio
The experiment will start in October and Reinvest24 will be the first one to join it here with a blogpost. As soon as I receive the first rental payments, I will include this into my overall reporting as well as in the experiment reporting.
I would love to visit Reinvest24 in Tallinn. On the one hand it is interesting to get in touch with the team and on the other one Tallinn is a great city. But I guess due to the corona virus stuff my visit has to wait a bit. But maybe there will be a chance in 2020 to come around.
Now it is time to start investing here. If you want to know more about my investments here and/or follow my experiment, you will find the latest news in my reporting-blogpost which is published every month.
https://p2p-lending-at-its-best.com/wp-content/uploads/2020/09/reinvest24-p2p-lending-1.png
139
419
Tobias
https://p2p-lending-at-its-best.com/wp-content/uploads/2019/05/logo-190522.png
Tobias
2020-09-20 09:08:41
2020-09-18 22:57:16
#1 Reinvest24 – The first platform of my P2P High Yield Experiment