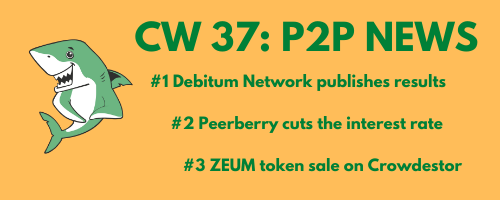 Welcome to this weeks P2P News. As we are heading towards the fourth quarter of 2021 more and more reports of 2020 and also the quartiles in 2021 are published. I am really looking forward reading some of them. Debitum Network published their 2020 results and some more news. Additionally I would like to present an interest cut von Peerberry for investors to you as well as another crypto-project in P2P lending.
#1 Debitum Network publishes Annual Financial Report 2020
Last week I wrote an update on my Debitum Network investment – and now the platform published their 2020 report. As I already mentioned the numbers during the covid-19 pandemic were great. Debitum was one of those platforms who did not face bank run problems. During the pandemic the published volume increased constantly and they had no bigger problems.
Those numbers are now validated by the Financial Report 2020 where investors are invited to the data.
Highlights:

Cumulatively from the first day, investors have earned more than 255 thousand euros at the Debitum platform.
Debitum attained a 3.97 million euro client funds at the end of 2020, an increase of 129% compared to the end of 2019.
The number of registered users had an increase of 46%, reaching 5946 users at the end of 2020
Another news last week about Debitum was their regulation license from the FCMC. Just like other P2P lending platforms before Debitum is now also regulated. In their blogpost Debitum Network sums up, what changes for investors and which next steps they will take during the transaction period.
#2 Peerberry cuts interest rates
The pretty popular marketplace Peerberry announced that nearly the half of their loan originatorsis cutting their interest rate by 0,5%. Since a long time Peerberry was able to hold their high level of interest rate. Due to a huge growth and a lot of cash at their loan originators they are not able to hold this level. Additionally the friends referal program will be paused from October 1st on.
From my point of view this sounds absolutely horrible, but in the end it is no big deal. Peerberry was able to pay high interest rates over the last months and years. So a decline of 0,5% does not hurt investors that much. Concerning the marketplace those news will lead to decreasing growthrates and stabilized conditions for existing investors.
Investors like Lars mentioned this kind of problems before on their blog. So it should not surprise interested investors that much.
#3 ZEUM token sale on Crowdestor
After I reported two weeks ago that Bondster is now offering crypto loans, which are backed by Bitcoins there is another kind of crypto investment on Crowdestor. From 16.09. to 22.09. investors were able to pre-buy the ZEUM token. This token will be implemented in the gaming section to make in-game-buys, advertising and stuff like that.
Investors have to stack those tokens for at least 6 months to avoid a value drop on the very first days. The project was funded very soon.
The ZEUM token will be used to facilitate all the transactions in the COLIZEUM ecosystem, be it advertising, in-game tournaments, or prediction markets (betting). It will also be traded on cryptocurrency exchanges like other cryptocurrencies. The token price at the Initial Dex Offering will be set at 0.05 USD, while CROWDESTOR investors will be able to purchase the tokens for 0.0313 USD. A Token Lockup will be implemented for six months in order to avoid the price drop after the IDO.
Also the crypto currencies are very popular again these times I really like the idea of integrating more and more crypto projects into the P2P market. For me as a crypto hodler and P2P investor this merge makes crypto currencies legit and shows  how to implement them on the market instead of fiat money.
Up to you – What is relevant for you?
This week there have been some interesting news for my portfolio. As I increased my Debitum Network investment just some weeks ago, I love to read their annual report of 2020.
Until now I am not invested on Crowdestor and Peerberry, but they are definitely on my watchlist. Currently I am mainly focussing on my project to increase my passive income from P2P lending, but as there will be a chance to invest, I would definitely have a try.
So, what is relevant for your portfolio out of there news? Are you able to give a short idea of your experiences with LendSecured? Just join my small Telegram Channel and let's grow it.
https://p2p-lending-at-its-best.com/wp-content/uploads/2021/09/p2p-news-cw-37-zeum-token-sale-on-crowdestor.png
200
500
Tobias
https://p2p-lending-at-its-best.com/wp-content/uploads/2019/05/logo-190522.png
Tobias
2021-09-23 07:03:30
2021-09-27 04:45:45
CW 37 – Top #3 P2P News: Zeum token on Crowdestor + Debitum Network results + Interest cut at Peerberry