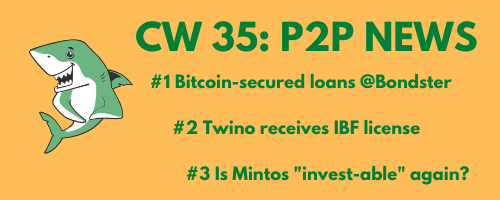 Welcome to another week full of news. When I started investing into P2P lending the information was pretty rare. Especially after the last year when covid had a huge impact in this sector a lot of P2P lending platforms started to communicate reguarly.
In my eyes this is a huge advantage for investors, as long as the information is proved and not just "something to write something". Therefore I want to filter my personal newsfeed and chose the Top #3 news which I want to present to you shortly.
Top #1: Bondster offers Bitcoin-secured loans from 7th of September on
The P2P lending platform Bondster from the Prague, Czech Repulic announced on their blog and via email-newsletter, that they will be publishing Bitcoin-secured loans. I think there is no doubt about the fact, that Bitcoin has a value. But how does Bondster wants to handle the exchange rate fluctuations?
Acema, the loan originator of those loans calculates with an LTV of 50-70%. But furthermore investments are secured by hedging the Bitcoin price against a priceloss. The lender hands his amount of Bitcoin over to the loan originator. Acema hedges the values and if everything goes well, the Bitcoin is sent back after the loan is repaid.
If the repayment fails, Bitcoin is highly liquid and the LO is able to sell it via any cryptocurrency exchange and repay their investors. This is a huge advantage in comparison to real estate, cars of  warehouse inventory.
Bondster says the average interest rate of those investment opportunities is between 11% and 12%, which is pretty attractive. (source)
I am pretty excited how this kind of investment security will perform over the time. The idea of hedging the price makes the investment quite safe on the first sight, which is always good for investors.
Top #2: Twino becomes a regulated marketplace
I guess all of you guys know Twino as a P2P investment platform. They have a pretty impressing track record and made it very through the covid pandemic last year. Twino was one of the first P2P lending platforms to aim for the regulation, which has now been reached.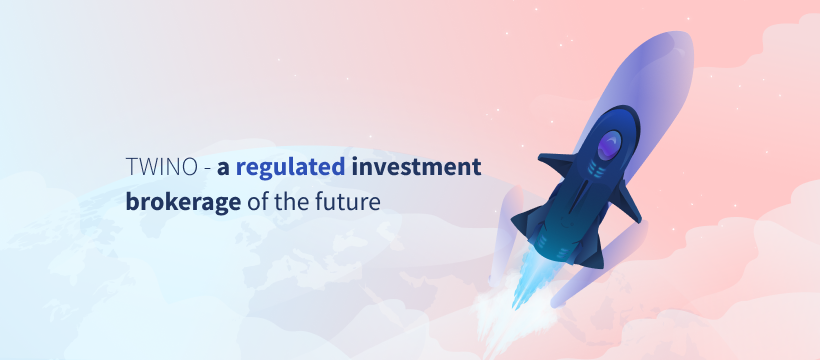 After I mentioned Mintos and their license in my last news, now Twino is celebrating their milestone. CEO and founder Armands says in their blog release:
After several years of preparations and hard work on improving our compliance, we've become a licensed investment brokerage company and received the license from Latvia's Financial and Capital Market Commission (FCMC).
What does that mean for investors?
With the license "in our pocket", we'll be able to better protect our users with bulletproof AML procedures and even higher security measures, strengthening our credibility and reputation in the eyes of investors. […] Our ultimate goal is to transform into a new-age bank and ring the Nasdaq bell in New York's Times Square.
Well, that is very ambitious to reach out for the title of a new-age bank. I really like the idea – let's see investors will be offered during 2022 when Twino wants to start using their license.
Top #3: Is Mintos "invest-able" again?
This is not a officially released news, but a very good blogpost from Lars. If you follow the link and push "translate" with Google Translate you will be able to read it in english. What does Lars deals with in this blogpost?
Mintos was one the P2P lending platforms who really suffered with the outcome of the covid pandemic. A lot of loan originators struggled and went into recovery.  Additionally some of the really good ones left the marketplace to establish their own P2P platform.  For investors this was pretty hard to follow.
Lars tries to find out whether Mintos did their homework. And do not get him wrong – he is very critical. Mintos is still struggleling, BUT since the first day of their struggles the team is communicating about it with their investors. Martins Sulte, CEO of Mintos is reguarly answering questions in their Ask Mintos Anything-format.
Beside that the team works hard von the recoveries. In Lars portfolio still 15% of his investment is in recovery, which is an outcome of ongoing processes.
Coming to the conclusion Lars points out that Mintos has the size and the knowledge to recover from those struggles and is working really hard on that. Therefore he thinks the platform reached the turning point and will now increase again. There are several numbers which investors might understand that way.
From my last income report you know that my personal interest rate is pretty low. But within it I stated that I will stay invested also I do not increase my investment currently for cashdrag-problems. So, take yourself some minutes and have a good read on Lars blog about his conclusion about Mintos.
Up to you: What was your most important news of the week?
I think we will see quite a lot of news the next weeks and months where platforms receive their license. And I guess that are great news for investors. Being "regulated" might be some kind of buzzword the P2P area is using also only a few know what this license is all about. But still, regulation means more security for investors also it might only be a part of the whole investment.
So let's talk about your news: What moved you and your investments this week?
If you want to have more news, you are warmly invited to my Telegram-channel. It has been some time ago when I invented it and never used it, but I think it is the right platform to share news. Just click what fits to you and ignore the rest, also I am not planning on spamming you. Maybe up to five messages per week, but you decide whether they are valueable for you.
Beside this News-channel there is a chat-channel where we can get in touch and talk about anything out of P2P lending. So if you are interested, just click the link above and join. Of course it is for free!
https://p2p-lending-at-its-best.com/wp-content/uploads/2021/09/p2p-news-cw-35-bitcoin-secured-loans-on-bondster.png
200
500
Tobias
https://p2p-lending-at-its-best.com/wp-content/uploads/2019/05/logo-190522.png
Tobias
2021-09-09 07:03:54
2021-09-10 05:23:17
CW 35 – Top #3 P2P News: Bitcoin-Secured loans on Bondster + Twino regulation + Mintos investment