Robocash – Tiny little helper with 12% to reach financial freedom?
Robocash, what a name of a P2P platform. I really liked it since the very first day I read about Robocash on Lars' blog. Additionally the logo is quite cute as you get the intention of a small roboter helping you to invest your money. But do I really rely on those things when investing my money?

Of course not. Today I want to introduce to you Robocash as a P2P lending platform in my portfolio. I am invested on Robocash for more than two years now. And on my way to my financial freedom I decided to increase my investment there to a substantial amount. Let's check, how Robocash is able to help my reaching my financial freedom.
Robocash – a smart P2P lending platform
Robocash was founded as a P2P lending platform in 2017. But before Robocash was an online lending company from Russia, which was acting on the market since 2013. In 2015 they expanded to Kazakhstan and in 2016 to Spain. Meanwhile the Robocash Group offers loans from four different loan originators.
As you maybe remeber I always try to take care about my diversification. Robocash seems to be the perfect candidate for my portfolio. Loans are coming from the following loan originators an global areas:
Z-Finance provides loans from Kazahkstan
Prestamer offers loans from Spain
Zayme RU / RC Riga provides loans from Russia
Robocash Vietnam Ltd / RC Riga offers loans from Vietnam and Indonesia
Robocash PTE Ltd had offered loans from Singapore
In comparison to several other P2P lending platforms, Robocash offers a lot of information about their loan originators. You are able to check their details and also visit their website. I really like this kind of information. As an investor you are able to get information about what kind of loans you are investing and in which global area.

Who is Robocash and which loan types they are offering?
On their website the P2P lending platform introduces themselve with the following words:
"The group is active in the field of consumer lending and marketplace funding. The main products are short-term loans and instalment loans provided both online and offline. Robocash Group develops all services in-house and employs automated technologies based on artificial intelligence and machine learning to secure comfort for customers and efficiency for business."
Damn it, so much information! I would really love to know those facts on IbanWallet. But nevertheless!
The Robos are concentrating on consumer and instalment loans. Usually the loan term is short-term. Therefore it might be a disadvantages that there is no secondary market, but you are usually able to stop the investment robo. By stopping it you are paid your deposit with a short period of time as all loans are short-term and repaid quite fast.
Any buyback guarantees being offered?
All loans are buybacked with a guarantee. Russia, Spain, Kazahkstan, Vietnam and Indonesia are ALL buybacked and until today there has never been a moment, where I lost money on Robocash. On their website the provide the information about any loan originator and how the loans are secured.

This is what I call transparancy.
12% interest rate in average
Investing on Robocash means an average interest rate of 12% currently. Their loans are usually issued with 10% to 15%. But as you auto-invest works for you all day long, the interest rate never decreased or increased in my account. To be honest, I did not invested that much over the last years. So I am quite curios of there will be any changes.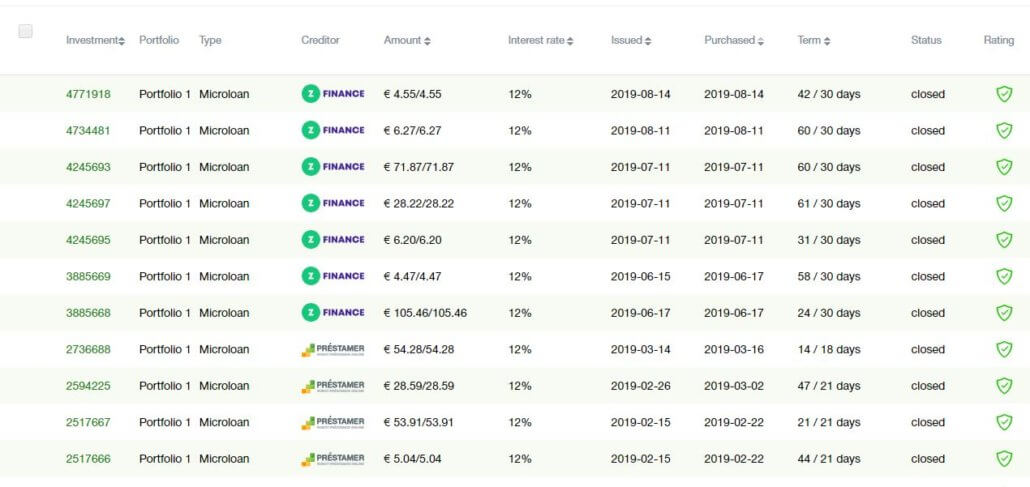 What is the bonus for investors on Robocash?
The tiny green robo, which is the logo fo the Robocash Group symbolizes the artifical intelligence working for you. The P2P lending platform just focusses on the code to automate investing. You are not really able to make investments by hand or on your own.
When you registered on the platform, you are forced to setup an portfolio. This one looks like the usual an well-known auto-invest. Here you are to adjust your settings and prepare your investment details.

Just like Mintos or other platforms you are to adjust, how much money your want to invest into a single loan and at what interest rate. Additionally you are able to adjust a total sum of your portfolio until where the robo should invest your money.
Make investing into P2P lending easy
I really love Robocash for their simple way of investing and earning money. Additionally they provide a lot of information for investors to get an idea of what you are investing into.
In 2018 Robocash issued a total of 2,2 million loans with a sum of 35,1 million Euro. In comparison to Mintos, Bondora this seems not to be the hugest platform, but for example DoFinance is in a similar range. It looks like Robocash is a good idea in my P2P portfolio, as the information is great, the interest rate is high and the investment works automatically.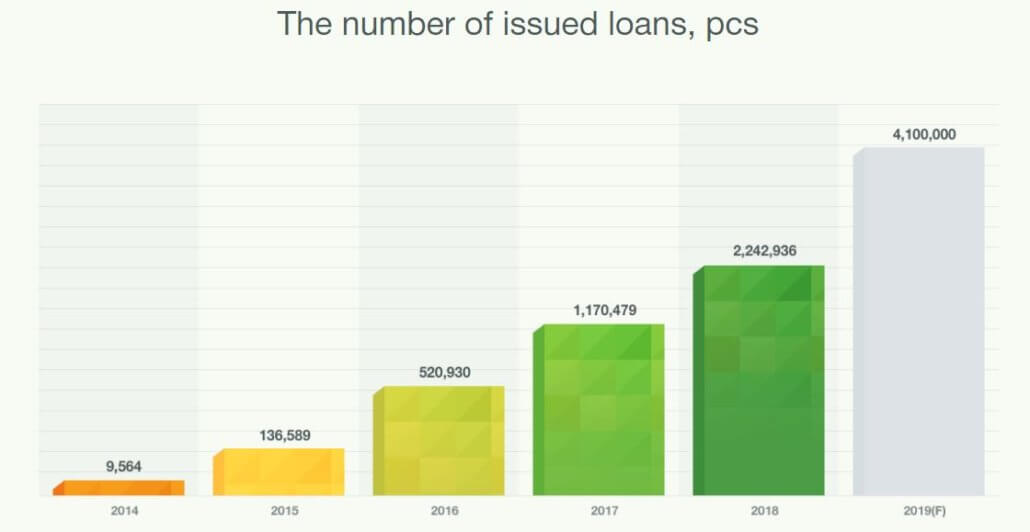 And this point I would like to give you another opinion fomr Scrappy and Sterling from P2P Millionaire. They stated about Robocash the following way:
"Robocash is the most simple P2P platform we have come across so far, with a peer-to-portfolio business model. It offers just one, fully automated, investment account with an average interest rate of 12% and buyback guarantee on all loans. […] This gives us comfort that the business is healthy and sustainable."
My personal rating of Robocash
Robocash keeps things simple and makes investing easy. Investors do not have to take care about anything. To find this trust to "let it happen" Robocash gives a lot of information about their platform, their loan originators and their loans.
By investing on their P2P platform investors are diversified among several countries all over the world. And, in my eyes something really important, those countries are not the usual countries, where every P2P platform is investing. Furthermore Robocash is seated in Zagreb, Croatia, which lowers the P2P platform risk, s most of the popular platforms are situated in the Baltics area.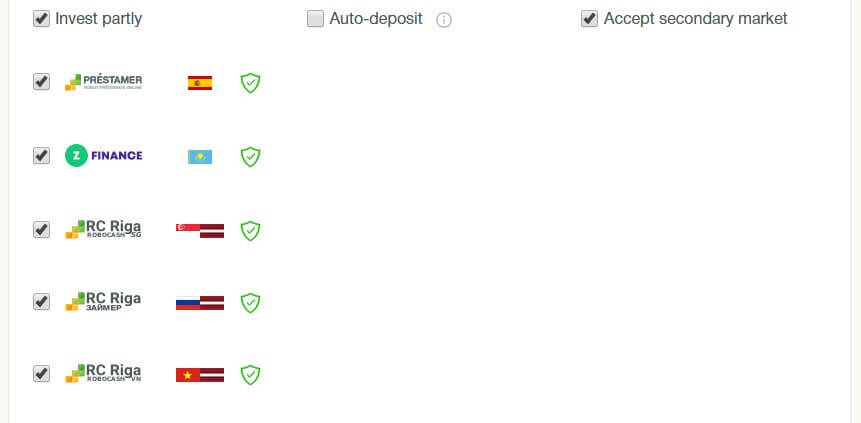 I think you have to get used to the platform design, as it is somehow very childish and maybe a bit too much artificial. But design is always a topic as every user and/or investor has different ideas about it. In the end design does not matter in my case. Things like safety, information and of the course the interest rate are more important.
Robocash is earning money with their loans
On the website from Robocash you fill the figures from 2017, 2018 and a 2019-forecast. Relying on those information the P2P lending platforms earns money from lending, so their business model is sustainable. Providing 12% to their investors and still earning a lot of money per year gives you an idea about their financial success.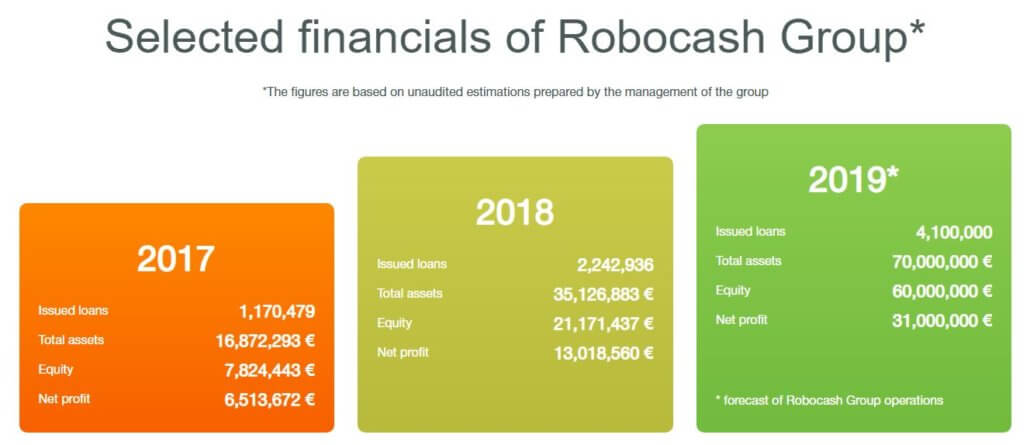 I am very happy with those 12%, which is more than I receive at Mintos or other P2P platforms. And it seems like those interest income is very good secured. Nothing to complain about?
10.000 Euro max and very simpel
In my eyes there are just two things, which are maybe a kind of disadvantage. For investors which huge amounts of money Robocash limits the investment to 10.000 Euro. This is okay for me so far, as I have not even invested 10% of this sum. But looking in the future and my growing assets it might be a problem some day. Let's see what the future will and maybe this "problem", which does not is a real problem, will be solved.
Focussing on artificial intelligence while investing the auto-invest is quite small in his function. Still you are able to tick on and off several parameters, but it is somehow limited to a simple range. For example you are able to choose the loan originators (or not) and the size of your investment, but you cannot choose between loan types or loan ratings. They are not even displayed in this screen.
As long as the buyback guarantee is working and repaid, this disadvantage is not anything to complain about. Thinking about P2P financial crises as we had small eruptions with Aforti, Kuetzal or envestio the last six months, this fact might play role in future times.
I am happy and I will increase my investment
I already mentioned that I did not care about Robocash for the last two years. But as I try to setup my P2P portfolio with the focus on diversification I realized about the qualities of Robocash. I will definitely increase my investments here in 2020 and try to generate more income from P2P investments here.
The easy way to invest and also the good information make my trust this P2P platform in a special way and I am willing to rely on it in the future. I do not know how things will turn out in the P2P sector. Nowadays there is a lot of rumors and action in it. But I guess this is a very good trend as it separates the P2P market to good investment platforms and bad ones.
And after every period of thunder and rain there will be sunshine again. Maybe Robocash is one of the big winners of those times and I am on board participating from their success.
https://p2p-lending-at-its-best.com/wp-content/uploads/2020/01/robocash-logo-wide.jpg
447
1085
Tobias
https://p2p-lending-at-its-best.com/wp-content/uploads/2019/05/logo-190522.png
Tobias
2020-01-26 09:14:13
2020-01-24 04:35:03
Robocash – Tiny little helper with 12% to reach financial freedom?