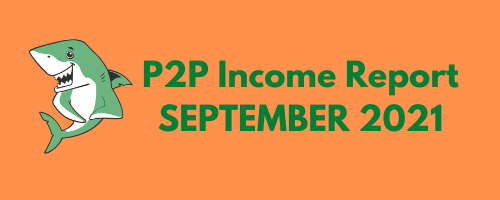 Income Report September 2021 – Can I get to this level?
Welcome to October 2021 – another month, another income report. So here we are. In todays blogpost I will show you, how my personal project of focussing on passive income with P2P lending is going. Additionally I would like to show you my personal "compound highlight" of the month.
In my last income report I wrote about my first step to earn 25EUR/month with four P2P lending platforms as passive income. Those are Bondster, Bondora, Reinvest24 and Robocash. Over the month I started to mainly invest only into these. And it was great to see, that the overall investment increased slightly.
Beside my usual monthly investments I always try to find one possibility per day to make money to invest. That does not have to be much – my minimum is at 5EUR. But this gets me into a habit of taking notice. This weekend I will be in Berlin with my brother – and booked the rail and hotel with a 9EUR cashback. Furthermore I will donate plasma next week and receive 23EUR.
There are some days I really do not find anything. As a consequence I transfer at least 10EUR into any investment from my monthly expenses. It does not sound huge, but getting into this habit again feels amazing.
When Kobe Bryant asked himself: "Can I get to this level?"
Probably most of you guys know Kobe Bryant. Her is beside Magic Johnsen, Michael Jordan and some more one of the best players in NBA basektball. Last month I watched "The Last Dance" on Netflix, which is a very interesting documentary about Michael Jordan. Michael had big influences on Kobe as he was something like a father.
On Youtube I found a video where Kobe Bryant is asked several questions. In the very beginning he answers how he came to basketball and what ambitions he had. And here there is one question which really burned into my mind. He was talking about Jordan, Ewin and Johnsen and than asked himself:
"Can I get to this level?
Well, I do not know, but let's have a try".
During the next seconds and probably more than a minute her explains how he aligned anything in his life towards this goal. And he really means anything.
What is my outtake here and how does it relate to P2P lending and finances?
You need to have a goal. Without a goal you will flip around between all of these next shiny objects. Being serios and putting in the work will push you towards your goal. And that has been something I never looked on in this clarity. My whole vision was only limited to the next 5 to 10 years. This is maybe the reason why my daily goals are very high which makes me intimidated and sometimes lazy while quitting my stuff. If you want to check the video out, click here.
Let's get into the details of September 2021
In the beginning of September I went to Schruns, Austria for probably the last race of the year. The Montafon Totale Trail was 33km including 3.300 vertical metres – quite a huge challenge for me. It took me 9,5 hours to get there and I was second to last, but I did it.
So why shouldn't I be able to reach out for bigger goals with my investments?
I already mentioned that focussing on a small amount of investments is quite a lot of fun for me. I saw those P2P platforms grow over the last month and already invested most of money for October. And becuase of that I expect a huge rise in my numbers for October.
Bondster's current status: 23,68%
By the end of September I invested quite a bigger amount into Bondster. Unfortunately this will not have a huge impact in September, but for October. In September I received interest payments of x,xxEUR. That means I am already 23,68,% down the road to reach out for those 25EUR/month. This month it was 5,92EUR which I received as interest payment.
Is there anything else to say about Bondster as a platform?
Bondster finally implemented Bitcoin-secured loans on their platform. Additionally EUROlombard joined the platform as a new loan originator. They are operating in Belarus, which offers the huge chance to investors to diversify among the european countries. And it is a pretty welcomed counterbalance to the Baltic loan originators.
Bondora's current status: 13,28%
I was able to make my 400EUR investment during September. Unfortunately I led it slide a bit during the month. By the beginning of Septembers last week I had to adjust and transfer the rest to my Bondora Go and Grow account.
Beside my personal investment increase there are no more news about Bondora. It is just like a well oiled motor, which is running and running and running – and moving my wealth constantly forward. This month I received 3,32EUR of interest payment from Bondora Go and Grow, which is only a bit less than last month due to the calendar days (30 versus 31).
In October the bigger investment payment will kick in the interest payment.
Reinvest24's current status: 25,44%
This week Reinvest24 announced their 100th investment on the platform. Congrats Reinvest24-team, you did a really amazing job!
As I will be increasing my investment here in the beginning of October there will be currently four projects available to invest in. After a lot of Moldovan projects there are once again two rental projects in Eberswalde, Germany (which is mainly funded) and Tallinn, Estonia.
During September I was paid the same 6,36EUR of passive income from my investments due to no change during the month. In October I invested another 250EUR which will increase my monthly income a bit.
Robocash's current status: 57,52%
There is no doubt Robocash is on top of the leaderboard for two reasons:
#1 The biggest amount invested
#2 Pretty nice interest rate near 11%.
But again, that is just by accident when I started my new focus. I guess Robocash will be "done" in my project by the end of this year, because it is only about 700 EUR missing to hit the target. After that the other platforms will grow and look amazing while Robocash dumbs around on the same level.
Therefore you always need to set things into perspective.
Review of last month
In my last report from August I reported, that I was off for quite some time. So usually things should have changed during September. Lets look whether they did.
The numbers in August showed 28,79EUR focussed on these four platforms. During September I collected 29,98EUR from those P2P platforms. That is a pretty small increase of only 1,19EUR or nearly 1,20%.
Is it something to be happy with? As there is no index like S&P500 or Dow Jones who I can blame for to have lost more during the month I am the only one to blame. And no, I am not happy with it. As I know my investments for October I guess the numbers will increase until the next income report, but I am still not happy with it.
But I calculated the numbers for October in advance – some kind of expected returns. My investments will probably lead to a 10%+ increase during this month which looks was more satisfying. As I already made most of investment by now, I will try to hit the 45% as a small challenge during the month.
P2P platforms to mention
Beside those let's call them temporary focus platform of course the other platforms are also paying some interest. I will list them here including their internal (my personal) interest rate:
Income Marketplace: 3,77% (very small investment)
Last month I was not really able to calculate the figures – and I not either his month. Additionally to be honest I think that this small investment here does not show the full potential. I do not want to advertise here – just being sceptical with myself as the initial investment is ways to small. But overall I received 0,19EUR on my investment during September. Calculating this up to an annual interest the interest rate would be 3,77%
DoFinance: 0,00 %
Right after DoFinance was able to manage paying me an small interest on the outstanding amount, they fucked up in September. Not even a single Cent was paid to my account. And of course there is no information about it. Keep your hands away from them currently.
Debitum Network: 8,23%
Again nothing to complain. Still the calculated interest payment is more than what is paid. That is okay, but over the time those accrured interest payment should be paid. So I am really looking forward receiving them, as the interest rate will be improve.
viainvest: 11,68%
During September there had been some small cashdrag here. This is probably why the interest rate is 0,3% smaller than last month. But that is okay for me and there is nothing I have to worry about from my point of view.
Twino: 13,78%
In September I again received some more than calculated. Therefore the monthly interest rate is quite high at 13,78%, but the YTD-interest is somewhere at 10%.
Bulkestate: Idk%
As every month I received the 2,55EUR monthly payment from two projects. Most of the loans at Bulkestate pay the interest at the end of term. Therefore it is pretty difficult to calculate it on a monthly base.
Moncera:
What is up for me next month?
Last month I wrote "Expect the Unexpected" and hoped for a good month. Well, it has been a good month, but far away from what I expected it. Things are not on the road again as I planned them to be. For any reason I turn into an expert in digitalizing the logistics in my main job, which is something I am highly interested in. Therefore another bigger project hopped on my table.
But, and that is the most important thing, I was able to manage it and still  executed my daily routines. During October my main task will be to make those routines bigger and put a bit more pressure on my goals. For example I was reading "Atomic Habits" shortly and have not written the review about it. Currently I am reading "Cashflow Quadrant" from Robert T. Kiyosaki – and by the end of this month I want both reviews to be online.
And of course I do want more savings into my project to hit the 45% target next month. Dont know by now how this should work, but I guess there will be enough chances during the month to make. Just execute my stuff daily and chances will show up.
Have a great month guys and see you next monht for an update on my income report!
https://p2p-lending-at-its-best.com/wp-content/uploads/2021/09/income-report-septepmber-2021.png
200
500
Tobias
https://p2p-lending-at-its-best.com/wp-content/uploads/2019/05/logo-190522.png
Tobias
2021-10-03 07:03:57
2021-10-04 05:39:58
Income Report September 2021 – Can I get to this level?