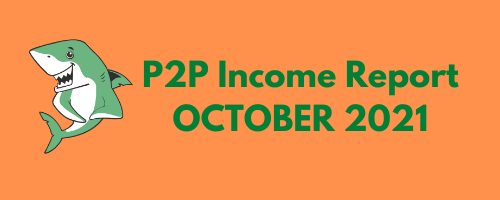 Income Report October 2021 – Energy flows where focus goes
Another month is over and we already entered the last 61 days of 2021. I cannot imagine getting off the gas right now, as there is always enough to do. To be honest: Trying to outperform myself in the last quartile of each year makes me personally feel like I am a bit ahead of myself – and everyone else around me. Everyone is already getting into this Xmas-mood, shifting down and eating a lot of candies.
Have you ever thought about not doing that? About stepping on the gas and moving forward? This is an idea which really triggers me.
Last month I wrote about my P2P investments mainly focussing on my, let's call the "The Focus Four" 🙂 I was able to manage any deposit and also overdeliver by a small amount. Overall I was not able to save what I planned to and missed my target by 37%.
This sounds like a huge fail, but I am still happy with it. My savingsrate was still 37,23% last month … and I learned I have to make some adjustments to reach it.
And there was a lot more I learned about last month. First of all: Do never try to work during your holidays! It is called holidays for a reason. We went to Spain during the autumn holidays for a week and really enjoyed it. From the stuff I planned to do I nearly got nothing done. Some parts of it were due to quite poor internet over there, but it was mainly about myself. I really enjoyed the time with my family – and there is no way I wanted to miss that.
Therefore: Beside reading I will never ever try to schedule any work during my holidays.
Energy flows where focus goes
When I prepared for my income report of October I recognized that the numbers on those P2P platforms increased massively, where I am currently focussing on. Wow – nothing to wonder about. But somehow I am wondering. How was I not be able to see this before? I often used this phrase before, but it looks like I never took it serious.
It is not this "get rich quick"-stuff. In my eyes it is more the first effect of working on something consistently. There is no way I am already done – but it feels great to finish the first step. And it is a pretty small step to be honest. The "impact" of what I did was only a few Euros, but seeing my numbers increasing is incredible motivating.
So, my personal learning: Keep moving forward and making progress! The challenge for myself will be to stay on track and keep that pace. Usually I try to take those small wins as a moment to increase my goals until they are huge enough to make me quit. Something I need to learn to not "think big" in those rare moments, but to only keep moving. Increasing my goals will usually come from itself.
Let's get into the details of October 2021
We spent our autumn holidays in Fuerteventure this year. It was great also the circumstances were quite wired. I mean flying on a plane after all this covid stuff was nothing to scare me, but felt pretty uncommon. But we made it and had a wonderful week with a lot of sunshine and perfect conditions to relax.
During those holidays my money still worked for me. Harder than I was contacting the pool bar every day 🙂 So I am pretty happy to introduce to you my monthly income report here.
Bondster's current status: 22,56% (-1,12%)
I was expecting a big increase in my income from Bondster for October, but it does not happen. The reason therefore was pretty easy: It was me! The first two weeks I was wondering why my deposit is not invested. But after two I realized that the amount grows and might have something to do with my auto-invest. And here I found the problem.
There is a maximum amount which I adjusted for whatever reason to 1.000 EUR. I hit that target and the auto-invest did what it was supposed to do: Stop investing. Great work, also it worked against me for my own will.
So, adjusted again and money began to work for me. But during October my interest income was only 5,64 EUR, which is a bit less than the month before. Hopefully there will be the increase during November without any of my mistakes 🙂
Bondora's current status: 23,88% (+10,60%)
During October I was once again able to make my investment of 400EUR to Bondora. This platform is running like no good and there is absolutely nothing to complain about. I am really excited to see how their relaunch of the spanish business will affect the platform. I am expecting nothing good, but as Bondora Go and Grow is their biggest product they need to figure things out for investors.
My interest income here increase to 5,97EUR (+2,65EUR). It is a big jump and looks impressive, but there is a lot of work to do until I reach the 25EUR/month here. So let's focus on the next 400EUR during November to get things right and watch what will happen.
Reinvest24's current status: 24,56% (-0,88%)
And there is another P2P lending platform who "lost" a bit in my comparison. The reason here is very easy. The interest rate is always paid by the beginning of each month. This is also the moment where I usually make my investments. So by investing at the end of September and/or the first days of October there is no chance that the interest payment will come during October.
Anything what I improved here regarding the total investment will show by the beginning of November – that is why the performance goes down a bit from 6,36EUR to 6,14EUR. As it is already November I do know while writing this report, that my numbers will slightly increase. But more about it next month.
Robocash's current status: 70,84% (+13,32%)
Robocash is still my biggest position here. And as soon as there is no cashdrag on the platform deposits are usually invested within minutes. This leads to a quite impressive of 13% compared to last month. My interest income raised from 14,38EUR to 17,71EUR.
As I already mentioned before I expect Robocash to be the first platform hitting the 25EUR-target. Maybe it will work out this year – surely the investment, but I am not sure about the interest payment.
If you want to know more about Robocash I highly recommend Lars' Youtube channel. He visited Robocash in September and is now publishing seven videos of his journey. He visited quite a lot of their business areas and stayed with them for nearly two weeks. The intro of each video is in German, but the rest is completely in english – so never mind.
Review of last month
October was somehow challenging. I personally lost one of my main habits: running 2 miles each day" I fucked up by the end of October when I was pretty busy with the kids and my job – and slept in very early that evening. I forgot to run my 2 miles. I figured it out the next morning and was like "aaahhhhhh" – fuck off. But there is always a small nugget in anything what happens, so let's find out what it is here.
The numbers in Octobers showed 35,46EUR interest income from those four platforms. This is an increase of 5,48EUR (+18,8%)m which is what I meant earlier when talking about the massive increase on the platform. Regarding my numbers I still have to keep in mind that Bondster and Reinvest24 have not increased yet – this will come next month.
Last month I reported I was not really happy with my personal September. Now looking at my stuff I feel much better. As I already mentioned it is nothing to cheer about when you try to scale to 100EUR or even more, but th beginning has been done. Now it is important to keep moving forward.
P2P platforms to mention
Beside those let's call them temporary focus platform of course the other platforms are also paying some interest. I will list them here including their internal (my personal) interest rate:
Hell, I hate this KYC stuff. Do not get me wrong, it is absolutely important – but as my passport ended by the beginning of November a lot of platforms blocked my account until I am able to provide my new passport. I already did with most of them, but for any reason I forgot about Income. Therefore I will update this as soon as I see my numbers again.
DoFinance: 2,19 %
Let's mark October in my calender – I received money from DoFinance. Again no news, no information. This is so incredible bad – I do not know what to say. As soon as I am paid all of my money back, I will leave the platform and never return. The reason is not their problems with P2P loans – it is their huge lack of communication.
Debitum Network: 13,18%
Last month I was paid a lot more than expected. I mentioned it in my last income report, that there is an increasing number of late payments. It looks like Debitum read it on my blog and decided to pay it instanly 🙂 *just kidding*. Lars had the same with his investment, wherefore the interest rate is very high this month. I guess it will drop back down to 8%-9% next month, which is were I expect them to be. Great work Debitum!
viainvest: 10,66%
I decided to not invest an amount here during October as I wanted to focus on my four platforms. Therefore the income was stable and the interest rate is absolutely okay. It is a bit lower than last month, but still above 10% which is important for me.
Twino: 12,02%
Again the interest payment was very huge at Twino. Lars reported that he was lucky by chosing some of their new loans, where I was also involved. It looks like this now helping to increase the overall interest rate. Absolutely lucky and made a small investment by the end of October here.
Bulkestate: 18,59%
Last month I received the usual 2,55EUR payment. Additionally there was a 100EUR investment paid back including the interest. This makes Bulkestate jump to the top for this month. Happy and already invested the money again into the next project.
Moncera: 9,11%
After I wrote my initial review of Moncera the interest rate dropped a bit. I mentioned it in my review, that there are currently no loans at their promised interest rate – which is okay by the way. No need for me to adjust, only mentioning it. Let's see how things will go on here.
What is up for me next month?
November is one of the darkest month of the year. We have a bank holiday on 1st of November and I will have my birthday by the end of the month, but looking at it November seems to be very unattractive. Well, why? I guess it is mainly because it the time between the coloured autumn and snowy winter – it is rainy, grey and ugly.
I want to make the best out of it. November is always the last month of the year, which is "full of days" to execute. In December there will be Christmas and New Years Eve again. So why not take November as the month of ending the year strong OR prolonging the next year to 14 months?
Last week I was on a call with Ed Mylett – maybe you will not know him. He is an american entrepreneur making tons of money from his businesses. He reported that he is starting to get aggressive by the end of the year. While anyone else is letting things slide or scheduling them to the beginning of the new year he tries to execute harder than anytime during those last months.
Really like this idea – so why not doing so? I think its a great idea, so let's put focus where energy should flow.
https://p2p-lending-at-its-best.com/wp-content/uploads/2021/11/income-report-october.png
200
500
Tobias
https://p2p-lending-at-its-best.com/wp-content/uploads/2019/05/logo-190522.png
Tobias
2021-11-07 07:03:33
2021-11-08 05:17:04
Income Report October 2021 – Energy flows where focus goes