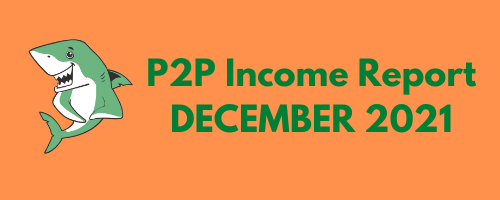 Income Report December 2021
Happy New Year 2022! The new year already arrived. So it is time to write an update on my monthly income report. I am pretty excited whether my money was able to work harder than me during the month 🙂
When I need to make a quote on December than it was again: Do never try to work during family time! I mentioned it just two months ago in my October income report. When we went to Fuerteventura and I tried to get some shit done I failed by far. Of course I should organize myself to do "something", but I failed again massively.
The kids were home, my daughter came for nearly a week and my brother visited us from Christmas until 1st January. That was great. It felt very like "family", which is kind of unknown as I never had such a big family before. Unfortunately my parents were not able to come, but however we had a great time.
Inbetween those days I also had to work in my main job.  Nothing critical, but quite a lot of work to stuff into a day 🙂 Now as the New Years Eve is over and everyone got home safely to start school and jobs again I moved my focus again.
Let's get into the details of December 2021
By the mid of December I was forced to work from home again. I really do not like it. Especially because I feel always very "guilty". Guilty because I stop working in the morning to make the kids ready or even have breakfast toghether with them. Do not get me wrong – I would never skip that as it is a very nice experience and time with them. But stopping the work for about 2 hours makes me feel guilty for the rest of the day. It is like I need to deliver more. That often makes me sit at the desk for long nights.
Over the last months there have been huge payments from Bulkestate and Debitum. That increased the overall  interest payment. I do not expect things to go that further. Therefore I expect some decreasing numbers for December. But let's see the details of the passive income last month.
Bondster's current status: 45,96% (+15,84%)
After my mistake in November Bondster is now running great again. I adjusted the auto-invest and additionally made two investments since then. Therefore I expect Bondster to jump in January the same way.
There is nothing more to say at the moment. I am quite happy being an investor here. There have been new loan originators during December which offers the chance to grow with the P2P platform. DanaRupiah is one of them who is already known from Mintos. You can read more about it on Bondsters blog section.
To be honest I am currently watching their numbers and performances. It is all good at the moment, but as you guys maybe all the bigger platforms had problems after growing too fast two to three years ago. So I would like to stay in control here and check, whether the situation slides into this scenario.
Bondora's current status: 29,52% (+1,12%)
Well, I had to skip last months investment rate for Bondora, to reach my goal with Robocash 🙂 Maybe not the best idea, but it felt great for me to do so. Therefore this month the increase is very small. Their current status of nearly 30% is okay so far. My goal is to increase my monthly income, wherefore Bondora is a fundamentally good investment, but not on top of everything. It is like a very nice dividend stock of a huge company, but only paing less than everyone else.
So, steady grow, but currently not planned to make bigger investments here. Also you are able again after Bondora skipped their 400EUR-limit and raised it to 1.000EUR per month. That is great news for a lot of investors including me. But I will stay investor of Bondora Go and Grow and not change to their API investment.
Reinvest24's current status: 33,40% (+0,06%)
The interest payments at Reinvest24 are always delayed to logical reasons. If you start investing today (January) and the project needs about two weeks to receive all funds from the investors it starts afterwards. Therefore there is no payment in February as the project only started now. The first payment will be paid during March, when the project is already running. This is a kind of effect investors have to be aware of.
So my investment during December will pay its first interest probably in February. Staying invested and make my investments every month is crucial. There is no way I should allow myself to be influenced by only the numbers, also this is the main part of my Focus Four – funny, isn't it? Let's call it delayed gratification and everything is fine again.
Compared to other platforms this is a kind of disadvantage, but as I am looking on my diversification I am ready to accept this kind of "fail" here. Nothing new to me to be honest, but every month with only a small increase it reminds of the circumstances again.
Robocash's current status: 127,68% (+45,04%)
"Done. Next" as my idol Tim Grover would say.
I mentioned it before that I wanted to reach my 25EUR/month goal here. And I did with an extra investment. Furthermore some outstanding payments were paid to my account, wherefore the sum is heavily overpaid compared to my goal.
What now? I will keep investing with Robocash, but with only 50EUR per month. Including the forecasted interest income it is a monthly investment of 75EUR and more. I will exclude Robocash from the Focus Four after they reached the goal again next month – if so – and decide which P2P lending platform will enter my personal Focus Four to replace Robocash.
If you want to learn more about Robocash, I published a Robocash Review in December for you.
Review of last month
My Focus Four investments paid me a total of 59,14% during December. That is nearly 60% of my first target of 100EUR. Great news, but nothing more. Compared to my last month this is an increase of 15,51EUR. Not that bad and something I need to keep. But to be honest I need to improve this number even more. For a small part it will take care of itself due to the compound interest, but I need to take for the rest.
Rating the longterm view this number is great. In my last months review I mentioned 8 – 10 EUR as my income improved that way. This month I am talking about 15EUR. So the total calculated per year increased 120EUR to 180EUR. Not a big jump, but still an impressive jump.
Let's keep investing as a fun part of life and make my resolution to be financially free by the end of 2025 reality.
P2P platforms to mention
As there is more than only those Focus Four platforms, I would like to mention the rest also in a short notice:
Damn it – forgot about it again. I will keep on the top of my list and deliver the numbers next month.
DoFinance: 0,00 %
F**k me sideways. It is no my first loss with a P2P lending platform, but what really drives me wild is their kind communication. DoFinance now announced out of heaven, that their Poland loans will be recovered by only 45-60%. Never again any penny to this platform! Losing is part of the P2P lending, but not talking about it and faking it is something I am no longer able to accept. I'm out!
Debitum Network: 10,50%
After two wonderful months full of repayments Debitum now comes back to their normal interest rate. That is okay and expected, wherefore I do not have any to do here. I even expect the rate to drop below 10% within the next months which has been the "old normal".
viainvest: 10,27%
Well, the VIASMS Group reported a loss of 300k for 2020. The reason is mentioned with "arising from assessment of Group's receivable with a the prudent approach and recognizing provisions for doubtful debts". You can find their report here. Am I concerned? Nope, I will keep my investment here. Maybe keep an eye on it, but there are much more chances as a regulated platform than risks from my point of view. So, just staying calm and check reguarly.
Twino: 12,96%
Another great performance again. I can not really tell you why as my time is limited to get into details, but Twino will probably be the next participant in the "Focus Four". And than I check them deeper in detail an report about it. Until than it is great to know I earned nearly 13% here last month.
Bulkestate: 0,00%
Last month there was no interest payment. The months before the numbers were quite huge, as Bulkestate is often paying the interest at the end of a term. Depending on the length there are some huge payments followed by more month where nothing is paid. That is okay, but also the reason Bulkestate will no be one of my Focus Four platforms. I focus on cashflow and there is none to plan with or compare to. But I will stay invested with my money.
Moncera: 8,74%
Last month I reported that the rate dropped again. Furthermore I reminded myself to check their Risk-Reward-Ratio. This month the rate increased a bit by 0,5% again. I invested another small amount here to make the data more reliable as I am still convinced about my investment here. So let's see over the next months.
What is up for me next month?
Did you made some New Years Resolutions? I did, but I did them a different way this time. Last year I focussed on sums and numbers – and failed big time. It was a big loss to be honest. But getting a bit deeper into detail I still got something done.
Therefore my resolutions this year were mainly about consistency. There are five different areas of life from my view and for everyone of them I have a daily goal hit. Like for my fitness & health I will make a workout every day for at least 45 minutes. Often this goes along with my running, but I also want to be active the others days. For example I booked a swimming course for my younger son which lasts for 45 minutes. So my task will be to swim those 45 minutes every time and not sit beside the pool and scroll through my Instagram feed.
Of course I have some numbers as a sum for the year, but I broke them down on a daily basis. So everyday there is a goal to hit which will influence my annual goals. That feels great to do it that way 🙂
Wishing you a great start into 2022. Comment below what is your one single goal for this year?
https://p2p-lending-at-its-best.com/wp-content/uploads/2022/01/P2P-income-report-december.png
200
500
Tobias
https://p2p-lending-at-its-best.com/wp-content/uploads/2019/05/logo-190522.png
Tobias
2022-01-09 07:03:23
2022-01-10 05:11:29
Income Report December 2021