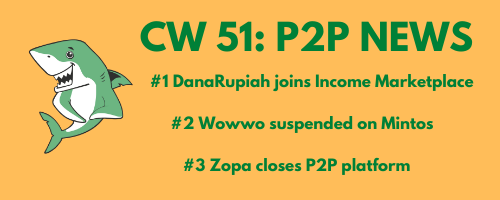 CW 51 – Top #3 P2P News: DanaRupiah new on Income, Wowwo suspended from Mintos + Zopa closes P2P platform
Today we will look at DanaRupiah, which is a new loan originator on Income. Mintos decided to suspend Wowwo, the turkish loan originator and the UK-platform Zopa closes their P2P platform in January 2022.
So welcome to another week of intersting P2P News – Let's dive into the details
#1 Income introduces new loan originator DanaRupiah
Some weeks ago I wrote a review about Income Marketplace. This P2P lending platform is still quite small, but they have huge ambitions. In comparison to other platforms they are offering an extra safety net for investors. I explained the concept of Junior shares and Cashflow Buffer in my blogpost – click to read about it.
Last week income announced that they added indonesian DanaRupiah to their portfolio of loan originators. You might already know them as DanaRupiah is also publishing loans on for example Mintos. Their rating on Mintos is a solid 6 out of 10.
With this step Income expands their loan volumen for investors which has been a problem over the last months. Growing their platform led to more investors for the same amount of loans. By listing new loan originators the cashdrag problems should be solved.
Comparing their type of security against the one from Mintos investors are likely to receive more security on Income. I am highly interested in how DanaRupiah will perform on Income.
#2 Wowwo suspended on Mintos
Last week on 17th of December Mintos announced, that loans from the turkish loan originator were suspended from the primary and secondary market. The reason therefore was described as following:
"Given that Wowwo issues loans in Turkish Lira, but places them on Mintos in Euro, the company needs to pay the exchange rate difference from its own resources when forwarding borrower payments if Turkish Lira value drops."
On their blogpost about the suspension you will also find out, that Wowwo is part of the of the conservative investment strategy provided by Mintos. Currently there are about 18 million Euro outstanding from which about 240.000EUr are pending.
So there is no problem yet, but it might have a fundamental impact if the Turkish Lira remains to drop in value. Therefore Mintos had to react to proctect investors funds. Personally I am only invested with 40EUR out of my whole portfolio which is a very small part.
What to do next? Well, I tend to do nothing. Mintos has the experts and a much better market view than I am able to have. Therefore I put my trust into Mintos. As Wowwo was part of one of their published strategies I think the Mintos people will work hard on any kind of solutions which is the best for investors. So, keep cool and relax – there is nothing you can do and depending from the share in your portfolio it is probably not worth the time to be scared.
#3 UK platform Zopa closes P2P business
The UK market might be part of the portfolio of some of you. Very little did I know as I am not invested directly on a platform that one of the biggest players over there decided to shut down their P2P platform. Zopa  announced the reason therefore on their website:
"… over the last few years, customer trust in P2P investing has been damaged by a small number of businesses whose approach led to material losses for retail investors."

"… changing regulation which followed raised the operational costs of running a P2P business, as well as the cost of attracting new investors to the Zopa platform. To offset these increased costs and ensure we have a sustainable and profitable business, we'd need to reduce investor returns to a point where they'd no longer be attractive and commensurate with the risk that investors take on."
This is something which I am hearing over and over again. During the last finfellas event Mintos and Twino talked about the regulation. Receiving the IBF license had been a huge project as well as measured in manpower but also concerning the cost. It is legit to think about shutting the platform down as the interest rates decrease.
Following Lars and other P2P bloggers you see in their figures that for example the interest rates at Mintos decreased from 11% to 12% now down to 9,5%. Especially at Mintos this has several reasons and the licensing process is only a share of the  downgap. But also take viainvest – they claimed 12% for investors and now changed it to 11%.
Maybe this closing from Zopa is a hint what might happen in the future. I am not the one painting black walls, but the more governments and regulation institutions are having an impact, the less riskier investing gets but also less attractive concerning the interest rate.
Up to you – What is relevant for you?
After getting their head again upon the surface Mintos seems to face the next struggle. Zopa closes and Income expands – the news could not be more contrary to be honest. Three very different concepts "against" each other with different news. I think that is the current situation in the P2P industry.
There are huge chances but also huge risks for investors whereas security becomes more important for them. I will try to find out about the chances and use them during the next year. What about you? How do you rate the current situation?
If you want to talk about P2P lending just join my small Telegram Channel.
https://p2p-lending-at-its-best.com/wp-content/uploads/2021/12/P2P-News-CW-51-DanaRupiah-new-on-income.png
200
500
Tobias
https://p2p-lending-at-its-best.com/wp-content/uploads/2019/05/logo-190522.png
Tobias
2021-12-23 07:03:30
2021-12-22 06:08:10
CW 51 – Top #3 P2P News: DanaRupiah new on Income, Wowwo suspended from Mintos + Zopa closes P2P platform