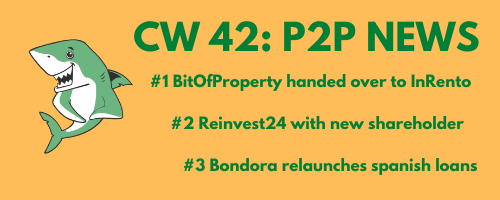 And welcome to another P2P news post. This week everything seems to be dealing with growth. So lets' dive into the latest news!
#1 BITOFPROPERTY managed by INRENTO
BitOfProperty has always been a pretty small platform. They mainly focussed on buying and renting out business real estatement in Tallinn, Estonia. During this year I received an email where I was explained the exit all of their projects and I will be refunded my money. That worked out without any problem. I understood this message the way BitOfProperty decided to close as they were not able to grow at the speed they wanted to.
Now last week I received another email. Investors from BitOfProperty will be transferred to INRENTO, which is another real estate platform from Latvia. Therefore investor should devide whether they want their data to be deleted or transferred to InRento.
Regarding the obscure news about Viventor where investors are fooled, BitOfProperty and InRento show how things can be handled. Also I liked the platform I have to accept that it is closed. Offering the opportunity to keep investing via InRento is a very good solution for those investors, who do not know what to do. I denied to transfer my account to InRento as I already invested the money into other platforms months ago.
#2 REINVEST24 announces strategic partnership with Kirsan
Heck, not again Reinvest24 🙂 Well, I promise to not take any news into the next newsletters. But this one I have to place here, as here KIRSAN SWISS GmbH will be a new strategic partner of Reinvest24. As Reinvest announces KIRSAN will become a shareholder by 18%. Why and what for?
Tanel Orro, CEO of Reinvest24:
…this partnership will bring further expansion to European countries and a better level of project's security. In fact, the track record of successfully implemented projects from both companies proves our credibility and deep expertise in what we do.
So Kirsan is not new to Reinvest24. They already worked together in some projects (Latvia and Moldova). Teaming up is supposed to make things easier and faster with an even bigger impact to the market and for investors.
Kirsan is situated in Switzerland and already operating in several countries worldwide. Their focus is mainly in Moldova and Ukraine. Both parties are talking about a good partnership, efficient processes and so on – that is nice to read and I am convinved they will make this partnership a success, BUT for me as an investor it is important that this will lead to more projects and hopefully some more points of interest rates 🙂
Let's see what will they will establish from now on and rate it in about half a year.
#3 BONDORA grows with spanish loans
Bondora is probably the underestimated P2P lending platform in my portfolio. There are only a few news, everyone accepts their 400EUR-limit per month and no bad news at all. Now Bondora decided to publish spanish loans again. They had been taken from the platform two years ago.
I still remember them, as they were incredibly high regarding their interest rate and only of few of them have ever been paid. Still today there is a small cashflow from my former Bondora auto-invest, where overdue investments in spanish loans are refunded.
During September Bondora started adding spanish loans again, also their share was only 0,04%. In their overview you can see, that those loans were rated in C and HR. Well, I understand why Bondora is doing it as they want to grow again. But personally I will stay at the sideline and watch.
For me there is currently no need to deposit more than 400EUR per month. Therefore I do not want to join the discussion of how this limit might fall – it does not play any role for me. For me it is important, that my Bondora Go and Grow account runs properly and generates a lot of income.
Up to you – What is relevant for you?
Again Reinvest24 – I am sorry guys for this spamming about them. But for me those news are pretty relevant as I am happy to be invested on a growing platform. I am not able to rate, whether those news from this week with Kirsan or the last weeks will affect my portfolio positively, but I guess so.
Bondora and Spain – I am very critical. Hopefully Bondora learned about it from the last time and implemented their learnings into this reopening. I will not invest directly, but I guess spanish loans will be handled also with Go and Grow. So let's see how things turn out to be soon.
If you want to talk about P2P lending just join my small Telegram Channel.
https://p2p-lending-at-its-best.com/wp-content/uploads/2021/10/P2P-News-CW42-Bondora-in-Spain.png
200
500
Tobias
https://p2p-lending-at-its-best.com/wp-content/uploads/2019/05/logo-190522.png
Tobias
2021-10-28 07:03:13
2021-11-02 06:10:49
CW 42 – Top #3 P2P News: