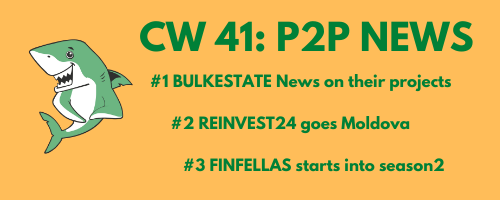 Welcome to the latest news in P2P lending. The week has been tough for me, as we went on holidays in Spain 🙂 Nevertheless there were enough before to fill them into my P2P News. Maybe
#1 BULKESTATE offers view on projects
P2P lending is often very anonymous. You deposit your money on a platform, hit the start-button of the auto-invest and off it goes. Especially in the case of personal loans this is absolutely reasonable as in my eyes investors do not have to know they are lending money to. There are rating systems to decide whether a loan is probably succesful or not – I do not want to know the details.
This view differs a bit when I am investing into real estate loans. Bulkestate is one of the P2P platform dealing with real estate projects mainly in the Baltics.  Bulkestate published a blog-post about their latest projects and reports a bit about the progress.
Why is it important to me? Well, let's say: giving my money to anywhom might be usual in P2P lending. The moment this "anywhom" starts reporting about what is done with my money to generate income this investment gets somehow "real". Before it was only a short number with a picture – now it starts to get real. Maybe I will randomly run into this building the next time I am in Riga, Tallinn or wherever and might think: Wow, I was a part of financing it.
It is legit to spin your head around what I am talking about. But honestly, making things more transparent in P2P lending is something I really appreciate. It gives investors like me the good feeling of doing something right and not being part of grey and shady system where nobody is able to tell you where your money is at the moment. Best wishes to Kuetzal, envestio and friends…
#2 Reinvest24 opens branch in Moldova
Yeah, once again Reinvest24. We already had news of the P2P lending platform three times over the last four weeks. But there is a lot changing which is absolutely necessary for investors to know. After expanding to Spain and Modolva Reinvest24 now opened up their second branch abroad in Moldova. The first branch has been in Spain somewhen in 2020.
Reading the news from last week and also talking to their Head of Marketing Viktorija this opening of the branch is just the expected result out of making a lot of business down there. In the blogpost about the branch opening it says:
One of our main focuses this year is to continue our successful expansion to new geographies, additionally strengthening the presence of already existing ones. This way we were able to execute numerous successful project exits from the new markets, such as Moldova […]

Taking into account that 41.6% of Reinvest24 projects are located in Moldova, opening the branch there became the only logical development of things.
And there is another interesting about it for investors: Metropolis 4D can now be followed live via webcam. Visitors can use the cam in the "Insider update" and check if everything is running smoothly.
Maybe some of you will not be interested, but overall this is a great deal for investors and transparancy – just like Bulkestate from the first news.
#3 New finfellas season with Regulation#2
In 2019 we all met in Riga for the P2P Conference. This has to be cancelled in 2020 for reasons everyone knows. So finfellas was founded which offered interesting webinars and livetalks on several topics in P2P lending. Last year there has also been one show about regulation, where we talked about what might happen.
This time season #2 starts exactly with this topic as regulation has become an very important topic for a lot of platforms. As you know for example Mintos, Debitum, viainvest and some more received their license they applier for. Others like Peerberry rejected their application and moved to Croatia, just like Robocash.
The event will take on 24th and 25th of November – of course online and for free. If you want to join the workshops, click here.
Up to you – What is relevant for you?
Will you join the finfellas event? The last time I was invited to hold some panels. You will probably meet me at the regulation event when I am joining another panel.
What was in it for your this week? Any relevant news for your P2P portfolio?
If you want to talk about P2P lending just join my small Telegram Channel.
https://p2p-lending-at-its-best.com/wp-content/uploads/2021/10/P2P-News-CW-41.png
200
500
Tobias
https://p2p-lending-at-its-best.com/wp-content/uploads/2019/05/logo-190522.png
Tobias
2021-10-21 07:03:55
2021-11-02 06:11:30
CW 41 – Top #3 P2P News: New perspective at Bulkestate + Reinvest24 goes Moldova + finfellas starts Season 2