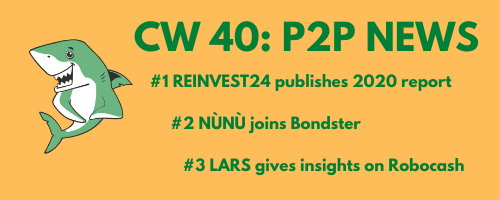 Welcome to another episode of my P2P News.  Last sunday I published my Income Report of September and calculated my expected passive income from P2P for October. Maybe nothing impressing for you, but I am really hyped to hit my target. Therefore let's dive into this weeks P2P News to find out, whether big things on my investments changed.
#1 REINVEST24 publishes 2020 report
Reinvest24 published their annual report for 2020 lately. As the P2P lending platform is growing massively, it does not really matters that the income exactly zero.
All the other numbers in the report seem to be okay on the first sight. Maybe it is not new to you, but let's mention it: The share capital is mentioned with 2.500EUR in the report. In April 2021 this increased to 125.000EUR which is a really good sign from my point of view.
Especially when you check the Note 10 about their revenue you get a good idea which impact the projects in Moldova have for the compay. A little bit more than half of the sales is done outside the EU, which usually means it comes from Moldova. Comparing all of Reinvest24 numbers to 2019 readers will the see the huge improvement. Just to remind you 2020 was the year where Corona first hit Eastern Europe.
As you guys probably know Reinvest24 is one of my "choosen ones" to scale the income up to 25EUR/month. Follow my monthly income reports to see how Reinvest24 performes in my personal P2P porfolio.
#2 New Loan Originator NúNú joins Bondster
Just like Reinvest24 Bondster is one of the platform I am currently focussing on. While struggling a bit through the first months of the pandemic Bondster managed to get ahead of the struggle quite soon. By the end of 2020 long-term CEO Jana Mückova left and Pavel Klema took over. Especially in 2021 Bondster onboarded quite a lot of new loan originators.
Now it is NúNú which is a loan originator from Iceland. Iceland? Right, Iceland, the huge island in the northwest of Europe. As you guys know I love diversification, where for these news were interesting to read. I never researched the P2P lending situation in Iceland before.
NúNú itself was founded in 2020, but the company behind it has a far longer history to show. It is a part of the ORKA Ventures group, which is situated in the Czech Republic. With branches and brands in Denmark, Iceland, Great Britian and of course the Czech Republic the loan originators is already nicely set up. Their unaudited report from 2020 is okay and shows, that NúNú is a strategical part of their growth story.
Nice to know and for my personal portfolio an interesting part of diversifying among Europe. With an 11% interest rate they fit in my strategy and I am really  interested in their performance of the next time.
#3 Lars Wrobbel visits Robocash
My good friend Lars once again took the chance to visit a platform. On his Youtube channel you will already find visits mainly in the Baltics at Bondora, Crowdestor, Mintos and more. During September he visited Robocash in Russia.
The intro of the video is in German, but the vlogging details of his visit are in english. So it is worth the time to watch and really interesting as Robocash is a platform which operates a bit under the surface of european investors. That is sad as the group is performing very good since years. Hopefully those videos (I linked to the first out of 7) will give a lot of insights for investors over here how the platform operates.
Up to you – What is relevant for you?
This week there have been some interesting news for my portfolio. Reinvest24, Robocash and Bondster are all platforms included in my current focus to scale to 25EUR/month. So all of the news are good news for me personally, which I really appreciate. Thank you Lars for doing that visit and thank you to the P2P lending platforms for taking of my money 🙂
I am really looking forward to ym next income report in the beginning of November. Excited how things are running and I am pretty sure I will scale Robocash to the needed amount by the of this year.
So, what is relevant for your portfolio out of there news? Are you able to give a short idea of your experiences with LendSecured? Just join my small Telegram Channel and let's grow it.
https://p2p-lending-at-its-best.com/wp-content/uploads/2021/10/p2p-news-cw-40.png
200
500
Tobias
https://p2p-lending-at-its-best.com/wp-content/uploads/2019/05/logo-190522.png
Tobias
2021-10-14 07:03:38
2021-10-29 07:55:46
CW 40 – Top #3 P2P News: Reinvest24 publishes 2020 report + Nunu new LO @Bondster + Lars Wrobbel visits Robocash