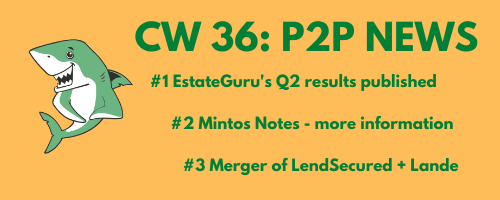 Welcome to my weekly news oversight. This week I will be shortly dealing with the Q2 results of EstateGuru, what Mintos Notes is about and the merger of Lande and LendSecured. So let's get into it.
#1 EstateGuru publishes Q2 results
EstateGuru is a pretty good experienced P2P lending platform based in Estonia. It was founded in 2014 and mainly publishes real estate loans. Over the years their focus spread all over Europe. Investors are able to invest into loans  from 10 different countries in Europe like Estonia, UK and also Germany.
Last week EstateGuru published their Q2 results which are pretty good. The loan volume rised by 180% in comparison to the same period in 2020 . Also the revenue increased by 133% up to €1.7M. Additionally another 7.500 new investors joined the P2P lending platform.
As you know I really like when P2P platforms are communicating. Also I am not invested on EstateGuru I think it is very important to mention events like those reports, as they give investors a good insight of the company. You can find their press releases on the website in "News and Press", where also the audited annual report of 2020 is available for free.
#2 Mintos gives more information about Mintos Notes
Mintos Notes was first mentioned in October 2020 on their blog. Receiving the regulative license Mintos will be able to wrap up several loan into one package and offer it to investors. When I first read and heard about it I was shortly remember of the Lehman Brothers debt management back in 2008 and before. But Mintos Notes is something completely different.
Last week I talkedabout Twino receiving their IBF license, which will give the platform more possibilities to work with financial instruments. Mintos has the same license, received earlier this year, and is now starting to offer the first "newer financial products".
So, what is the idea behind Mintos Notes?
Today the minimum invest at Mintos is 10€ per loan. This makes it not a big challenge to diversify, but more diversification cannot be bad. Therefore Mintos Notes includes 6 to 20 loans of the same asset class and data from different loan originators.
The minimum invest here is 50€, which means investors "buy" a share of those loans depending on the amount of loans between 8,33€ and 2,50€. The diversification is already included and the condition about buyback and security are absolutely the same as the usual known loans on the platform.
Each "Note" will receive its own prospect as they will also receive a identification number (ISIN) like shares. It is a regulated product, which differs from things Lehman did decades ago. Investors do not have to accept a change of interest rate and/or securities. It is more a product to lower the minimum investment per P2P loan.
#3 Merger of LendSecured and Lande
LendSecured is a quite young P2P lending platform dealing with agricultural loans. Nikita Goncars, one of their founders, presented those loan types during last years finfellas event.
The team behind LendSecured and Lande have been working together for nearly a decade. Their shared professional experience of running several real estate and mortgage lending companies has led to the idea of establishing platforms to help small and medium-sized European farmers secure financing by using grain and farmers' moveable property as collateral.
Now LendSecured and Lande merge together. Lande has always been the partner of LendSecured for agricultural loans. Whereas it is the logical next step to merge, when things are running good together. Meanwhile my doubts are also maybe not wiped about, but some kind of taken as LendSecured is quite successfull with those loans and increasing their size.
The idea behind the merger is to expand their business all over Europe. This means more loans for investors, but also more possibilities to diversify among loans in this special field of agricultural loans. During the next 6 months both companies will align. The brand for the future will be Lande, whereas LendSecured as a name will disappear.
Up to you – What is relevant for you?
This week there have been some interesting news for my portfolio. Especially Mintos Notes is pretty relevant as I like the idea of the products. But before investing I will dig a little bit deeper into it and try to find out how to use it the best way for me.
Additionally I have to defintely think about LendSecured and Lande. Agricultural loans like LendSecured and Lande are offering them is a good way to diversify my portfolio. Until now I was a bit scared as agricultural loans have always been a red flag for me due to P2P lending platforms like envestio or Kuetzal, who went bankrupt. But I have to admit I never checked the details deeper at Lande which turns out to be a bad decision by now.
So, what is relevant for your portfolio out of there news? Are you able to give a short idea of your experiences with LendSecured? Just join my small Telegram Channel and let's grow it.
https://p2p-lending-at-its-best.com/wp-content/uploads/2021/09/P2P-news-mintos-notes-lendsecured-lande.png
200
500
Tobias
https://p2p-lending-at-its-best.com/wp-content/uploads/2019/05/logo-190522.png
Tobias
2021-09-16 07:03:51
2021-09-15 05:10:08
CW 36 – Top #3 P2P News: EstateGuru's Q2 report, Mintos Notes and merger of LendSecured and Lande