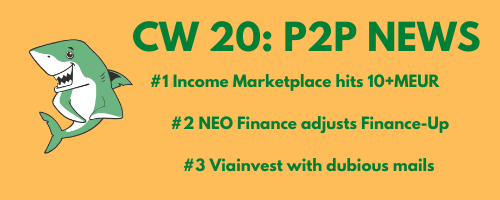 CW 20 – Top #3 P2P News: Income Marketplace hits 10MEUR, NEO Finance adjusts financing and viainvest with dubious mails
Big achievement for Income Markeptlace: They funded over € 10 million in loans since their start. That is quite an impressive number. Additionally more and more loan originators are onboarded, just like Hoovi. NEO Finance changed their own rules on financing published loans on their platform. And viainvest faced a more-or-less-hack where emails were sent to some investors.
#1 Income Marketplace hits 10+MEUR invested volume
Last week Income Marketplace announced that they hit the 10+MEUR mark. That means, that over the months and years since they started investors invested at least 10 million Euro into loans from their loan originators.
As you can see in the graph the numbers are always rising since January 2021. For me it looks like a very healthy growth and I am happy to be one of the first investors here. What comes next? Probably 15MEUR, 20 MEUR and so on and on. That is only a matter of time. As an investor I am deeply interested how Income Marketplace will perform over the time and under these circumstances.
Please give Income Marketplace a follow on Instagram, where I found that information. If you want to know more about Income Marketplace, just check my review here!
#2 NEO Finance adjusts Finance-Up numbers
Currently I am not invested at NEO Finance. But reading there news was some kind of: "Let me read that again". And here is the quote:
Until now, NEO Finance AB was able to finance up to 50% of the amounts of all loans listed on the platform. As the supply of loans grows and noting slower funding of loans on the marketplace, it was decided to increase NEO Finance's AB investment limit to 80% of the original amount of the consumer credit. […] But if a loan rated A+, A or B is not fully funded within 48 hours, NEO Finance AB retains the ability to finance an additional 30% of the original amount of the consumer credit.
What does that mean?
For my understanding NEO adjusts their Finance-Up numbers. Until now they were able to finance up to 50% of a loan. But for market reasons this mark is not put up higher, if a A+, A or B loan is not fully funded on the marketplace two days after it was published.
Then again NEO Finance has the chance to fund additional 30% of the loan. For investors this is great news as the cashdrag-time goes down. It seems like this might also be a proper tool against the current lack of investors in the P2P industry. While others are advertising with cashbacks NEO Finance chooses another way and make its platform work with investors money.
#3 Dubious mails from VIAINVEST
During the last week some investors received dubious mails from an official VIAINVEST-account. There were forced to open the attachment of the email which included some kind of virus.
VIAINVEST was fast with their communication, as it looks like they have received some kind of virus mail. As it was opened the virus send the mail to the adress book of the employee opening it. Overall the "problem" did not affected all investors or the platform itself.
If you have ever send an email to the VIAINVEST support or opened a ticket there and now received an answer including an attachment: DO NOT OPEN IT!
The platform already wrote to any investors to take care. Furthermore they stated, that there were no more data "hacked" than those emailadresses.
Up to you – What is relevant for you?
Personally I am very happy for Income Marketplace to hit that number. Just remember: They started in 2020 and developed during the covid crisis as well as the war between Russia and Ukraine – so everything else than simple.
What was your most interesting fact this week? Any news with a huge impact on your P2P portfolio?
If you want to talk about P2P lending just join my small Telegram Channel.
https://p2p-lending-at-its-best.com/wp-content/uploads/2022/05/P2P-News-CW22-Income-Marketplace-hits-10MEUR.png
200
500
Tobias
https://p2p-lending-at-its-best.com/wp-content/uploads/2019/05/logo-190522.png
Tobias
2022-05-26 09:00:44
2022-05-30 05:11:26
CW 20 – Top #3 P2P News: Income Marketplace hits 10MEUR, NEO Finance adjusts financing and viainvest with dubious mails