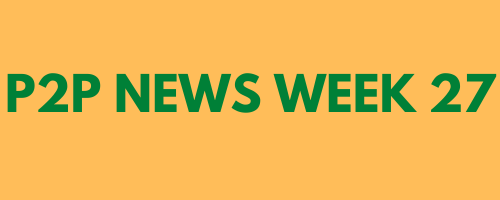 P2P News CW27: Viainvest auto-invest, Reinvest24 goes UK, Bondster recovers RapiCredit and more
Welcome to todays P2P News of the week 27. I would like to wrap up the latest news but also most relevant headlines for my portfolio. The idea behind this format is to cover the headline and some basic information about it trying to make it easier for you to decide if you want to dive into the topic. So, let's go.
#1 Reinvest24 publishes first UK-project
After the estonian P2P marketplace Reinvest24 split up with their partner Kirsan, it now looks like they have found someone new. This week they announced their first project in the UK.
That does not come by chance as Reinvest24 lines up with Shojin Property. The real estate platform is FCA regulated and provides real estate projects in the UK.
Now investors of Reinvest24 are able to invest the first mezzanine loan under the project name "Westbrook Mills". The project is located in the south of London near Milford. And it comes with two different investment option: Either "full bucket" or "rolled up".
The difference here is the payment term of the interest rate. With "rolled up" investors accept a slightly lower interest rate, but receive a monthly payment. Vice versa investors with "full bucket" receive the full interest payment at the end of the loan term after 24 months. The whole project on Reinvest24 is 240.000 EUR big, halfed into 12% yield as "rolled up" and 14% yield as "full bucket".
#2 Estateguru publishes mid-year review
Estateguru has not had a very good year until now following the blogs and social medias. This impression is mainly underlined by the problems they found with their german businesses. Now it is time for CEO Mikhel Stamm to review the first half of 2023 trying to gain more trust into the platform.
Mikhel states: "Volumes are still slightly lower when compared with last year, but borrower demand remains high, especially with the banks having begun to raise their interest rates for development loans to levels similar to our own."
Beside receiving the license from the Estonian Financial Supervision and Resolution Authority (Finantsinspektsioon), which allows EG to operate EU-wide, the funds and repayments are on slightly lower level than last year. Their focus for the rest of the year is to get their German loans under control and rely on well-known, performing and approved borrowers to secure their business in Finland and the Baltics.
#3 Viainvest overhauls auto-invest and adds strategies
The latvian P2P marketplace announced that their auto-invest for investors has been renewed. As one of the latest highlights viainvest now offers pre-defined investment strategies with their auto-invest. Investors have the chance to choose between an active strategy, diversified strategy and of course are able to define their custom strategy.
The active strategy is following high interest rates. Therefore funds will be also invested heavily more into loans, who provide high yields. Investors have to qualify themselves for this strategy with an product suitability assessment in advance.
The diversified strategy follows the idea of diversification and less risk. Therefore the funds will be invested over all loans, grades, interest rates, etc.
#4 RapiCredit continues to repay on Bondster
The loan provider RapiCredit now confirms (again) a repayment plan to Bondster. Their total of 921k EUR outstanding repayment has been recovered for about two thirds now. After Bondster agreed on an extension RapiCredit again was able to stick to their plans. Unsteady and slow coming payments had been red flags for Bondster.
Now both parties agreed again on a new term, which will recover 25.000 EUR each week (in total more than 100k per month). Therefore the rest of the currently outstanding 313k EUR (from 1st of July) will be recovered until the end of October 2023.
Bondster announced the agreement to their investors making sure, that repaid money will be promptly paid to the investors accounts.
Until now all loans before June 2022 are recovered. Over the next month the period of the last 12 months will follow to make todays 82% recovery rate a full 100% recovery for investors.
#5 NEO Finance publishing their June results
The lithuanian platform offered their monthly results. Sharing their main key performance indicators investors and interested people are able to check on them. In June 2023 NEO Finance funded another 4.2m EUR which was out of 823 loans. On the secondary market investors transacted 184.000 EUR of loan value.
Regarding the average interest rate investors were able to earn 14,35%. The weighted average interest rate is increasing since the beginning of 2023.
Source of the week
Today I would like to recommend a very valueable piece of content to you. It was written by my good friend and P2P master Lars Wrobbel. Please go to his page and have a good read.
Lars Wrobbel – "Implementing a system to a side income – My P2P set of rules"
As the content is written originally in German you need to switch the Google translator on in your website and choose (or which language you ever want to read it in).
https://p2p-lending-at-its-best.com/wp-content/uploads/2023/07/P2P-News-CW-27-viainvest-auto-invest.png
200
500
Tobias
https://p2p-lending-at-its-best.com/wp-content/uploads/2019/05/logo-190522.png
Tobias
2023-07-10 05:50:40
2023-07-10 05:50:40
P2P News CW27: Viainvest auto-invest, Reinvest24 goes UK, Bondster recovers RapiCredit and more