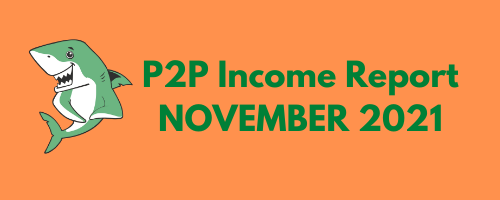 Income Report November 2021
How was your November 2021? Over here in Germany we faced another huge increase of covid-infections, but somehow people do not really care about it. Compared to last years October life seems to be as normal as possible and still going on. Therefore there was a lot of "noise" from the media but nothing which really affected me. So let's get into the P2P lending scene of November and explore what happend there.
During November I made some hopefully good decisions about my near future. I had a really good chat with a friend who tried to confront me with the truth. That was, to be honest, something what I really needed – and the outcome was disgusting. So there is a lot to do next year and I am already done with my goals. Therefore let's get to work.
P2P lending expanded during the last month. I was invited to the finfellas event in the end of November which was about the topic "Regulation". In times of stagnating interests and economics people try to find resources to earn money from. The topic of regulation was perfect as especially the regulated platforms are welcoming a lot of new investors. The less risk people see the more likely they carry their money to the spot.
Personally I changed nothing in portfolio. But it was interesting to see how the tribe reacts on the circumstances. And to be honest: I expect a longer period of economic-sideways to consolidate all of the covid-funds and recover from the huge amount of money the ECB und FED printed to stabilize the world during the peak pandemic.
I see a huge chance for P2P lending
When investors were not able to buy dividend share during the covid crash but are now searching for interesting investments to earn money from the market is somehow pretty flat. Of course the media is already reporting about the high stock prices and the big chances ahead but this is usually a contra-indicator to invest. Following experts like Alex Fischer from dividend-alarm.de or several more which I trust in the market will maybe see another All-Time-High over the next months, but it will not develop another 20-30% upwards.
On the other hand the chance of a bigger inflation is already there. In November the EU announced 4,9&% and 6,8% in the USA. That is pretty much of a banger to be honest. The value of your money decreases by 5% to 7%.
Let's tie things together: Inflation rises and the stocks are already near their ATH – where to invest your money? Right, why not P2P lending? I personally think the chance is there and I am willing to take its full potential. That might also cause a overweight of P2P lending in my portfolio but I will still watch and adjust when necessary. At the moment I am really excited to see what happens and prepare.
Let's get into the details of November 2021
In November I was forced to work again after we had wonderful holiday in October. Things got stricter again and there was a lot of things to organize. But I was able to make my investments and looking on my numbers it had another big impact again.
Beside investing I really struggled to organize the rest beside my job and family life. That looks somehow normal and everyone noods with their head when talking about it, but it is nothing I want to accept. So I need to massively improve here.
Bondster's current status: 30,12% (+7,56%)
Bondster is running okay so far. Last month I made my mistake and had the learning to adjust the auto-invest. Therefore November was fully loaded with interest payments.
During the month I someone blaming Bondster to be scam. In one of my last blogposts I tried to cover that topic from a neutral standpoint (which is not possible as investor) and came to the conclusion that Bondster seems quite safe. Of course there is always a risk, but it does not look like a huge one to call them a scam.
Furthermore the owner of the comment did not get in touch with me whch I suggested to talk about it. Unfortunately this seems to be the end of it all – and I will stay invested.
In my account there is an amount of overdue payments, which is I would say probably normal for a P2P marketplace. Mintos has it as well – so nothing to be scared about. But until now there has been no P2P loan which failed.
Bondora's current status: 28,40% (+4,52%)
My interest payments jumped again this month. Now it was 7,10EUR which was paid to my account last month
Bondora jsut skipped their 400EUR-limit and increased it to 1.000EUR. That is a good sign for investors. Comparing the numbers of Bondora now to those before the pandemic they nearly reached the same level again. Bondora also started to expand to Spain again which will bring several new P2P loans to the platform.
Overall it is great news. I will stick to my 400EUR payment per month as there is currently no way to increase this amount.
Reinvest24's current status: 33,34% (+8,80%)
Like I said in my last report Reinvest24 will catch up this month. Now all investments are paying interest during the month,which leads to a strong increase.
Reinvest24 made some big steps forward into the future. First they skipped their investment fee of 1% and secondly they are on a path to growth together with their new investor. The only thing I do not like that much is the fact that a lot of new projects are paying the interest every six months – and not monthly. Trying to increase my monthly cashflow this is a little bit of annoying.
Looking at the numbers by the end of a year there is no difference whether the interest is paid monthly or every six months. But for me as an investor is has the chance to do everything I want every month – every six month restricts myself a bit.
Robocash's current status: 82,64% (+11,80%)
Robocash will be the first platform to hit the 25EUR goal – probably by next month. That is a good feeling as I will go on with investing on the other three platforms and scale them to 25EUR per month.
I found another issue in my account during the month. It seems like I tried to test the withdrawal back in 2018. By trying to make this payment I ignored their minimum of 50EUR per withdrawal and had 49,49EUR still sitting in the account to get withdrawn. It was bit of a miracle why I did not recognized it, but when I did I instantly put the back into my investment amount. And now they are again working for me.
Review of last month
Due to my investments I was able to increase my interest income out of those Focus Four platforms up to 43,63EUR. This is 23,0% more than last month and a massively more than last month. Just imagine I will be always able to top up this number every month by 8 – 10EUR? It is another 100-150EUR per year of extra income – passive income. And as this money is reinvested immediately it will ad up to another number coming on top of every of my investments.
So, whatever I do – as long as I do not stop investing or skip the whole savingsrate my passive income will increase. The more I put into it, the more will drop out.
That is maybe nothing new for you and I am bit too enthusiastic about it. But it feels amazing to take one more step forward on my journey, also it is only the very first beginning.
P2P platforms to mention
As there is more than only those Focus Four platforms, I would like to mention the rest also in a short notice:
Honestly – I completely forgot about the KYC and did not made it. So therefore there is no data about Income Marketplace for November, but I will fix it soon and get back to you with the right numbers here.
DoFinance: 0,00 %
Back to normal again – no interest payment for my investments from 2018.
Debitum Network: 16,81%
Again I received a lot more of what I expected from Debitum. The reason therefore is easy: There are some delayed payments, which were now repaid.
Do not be too enthusiastic about the high interest rate – it compensates on a year-to-date view which I will give you with my next income report. Nevertheless I think it is mandatory to mention that Debitum did a great job again.
viainvest: 11,87%
Viainvest decided to decrease their overall interest rate from 12% to 11%. There are several good reasons for it – but none of them really affects me.  Viainvest is still a good investment for me and I am happy to be onboard. Nothing more to say about this here.
Twino: 13,80%
Great performance again. It looks like it pays off to took the risk of investing into these new type of loans. Overall I am very happy and will increase my investment here during 2022. Year-to-date my interest rate is at 10,32% which is a great performance and above anything I wished for.
Bulkestate: 15,12%
Bulkestate with another big number which results out of payments at the end of the loan term. That is usual for investors here, but makes the monthly view on the P2P lending platform a little bit tricky. To be fair you need to always have a look on the annual interest rate as most of their loans are paying the interest in the last month.
Moncera: 8,20%
The rate dropped again in comparison to last month now to 8,20%. With an inflation rate of nearly 5% those numbers have to be reviewed from my point of view as the risk-reward-relation gets under pressure. Let's see what will happen the next month as the inflation-thing is not a special Moncera-topic but an overall thing to think about.
What is up for me next month?
Here we are in December. "It's the most wonderful time of the year" sings Andy Williams in his song which you will always here now when tuning the radio on or getting into a Shopping Mall. I am really not into this Christmas thing, but hey, it is a big thing for the kids and nice to have the family around.
I am really looking forward to January when I will travel to Tenerife for one week. Before covid there was always a winter-meetup from the Citizen Circle somewhere in the world where the sun was shining. It was skipped last year so I am really excited to meet the others guys and gals again next year.
So what is December about? Well, I guess executing again. Currently I am experimenting a lot with my tasks to find the right rhythm. Sometimes I skipped tasks or whole days which is putting me back to where I come from. And I really do not like it, so I need to adjust my daily routines. After we had some covid cases in the office by the end of last month I felt like back in March/April 2020 when I was completely taken out of business as this stuff impressed me that much. This time it was a bit better, but still a a lot of space to improve for me.
So what are you up to in December?
https://p2p-lending-at-its-best.com/wp-content/uploads/2021/12/income-report-nov-21.png
200
500
Tobias
https://p2p-lending-at-its-best.com/wp-content/uploads/2019/05/logo-190522.png
Tobias
2021-12-19 07:03:13
2021-12-17 04:09:26
Income Report November 2021