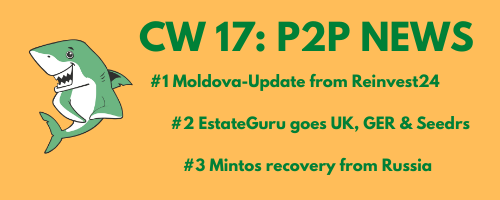 CW 17 – Top #3 P2P News: Moldova Update from Reinvest24, EstateGuru expansion and Mintos recovery from Russian loans
Moldova-Update from Reinvest24 – interesting insights and a good wrap-up of the current situation. Furthermore todays news are about the expansion of EstateGuru to GER and UK as well as a opportunity for Mintos to receive money from Russian loans.
Welcome to my latest P2P News.
#1 Moldova-Update from Reinvest24
This week Reinvest24 informed their investors about the current situation of their Moldova investments. Some weeks ago a first mail got my attention when Reinvest24 reported about a prolonging of a project. There was only very little information about the circumstances. It was said that there is no connection to the current geopolitical situation.
That sounded quite weird and I asked. In less than a day I got an response informing me, that the reasons are different and mainly due to the weather.
So no Reinvest24 made a bigger update on their Moldova projects. The reason is probably the current situation in Ukraine and Transistria. This is a short part of Moldova at the border to Ukraine, which now has been put into alarm-mode as Russia mentioned it somewhere.
I really appreciate the update, as it was quite complex. Viktorija from Reinvest24 wrote about the situation as well as about the safety of the invests. Of course they are protected with several steps, but in the end it is still a risky investment – like every P2P investment independent of where they are located.
"We are sure of the security of our Moldovan projects. In fact, I believe that any development of the current situation will be an excellent real-time test of our processes, teamwork and quality of our projects. As well as the platform itself. We are strong, united and ready to embrace any change. As we are sure we did our homework properly. " Tanel Oro, CEO at Reinvest24
On the secondary market you can buy the projects from Moldova with a huge discount at the moment. Might be a chance for investors who are really into the situation.
#2 EstateGuru goes UK, Seedrs and Germany
EstateGuru informed their investors about the current news. That was quite interesting to read. During March EstateGuru opened their first branch in Manchenster, UK. The idea is to supervise investment projects from north-east of UK from this office and take care from an on-site spot.
Furthermore EstateGuru cooperates with the Raisin bank. Raisin is another fintech bank based in Frankfurt, Germany. The target is fund projects with a volume of 215MEUR in Germany for the real estate platform. Especially for diversification reasons EstateGuru might be getting more interseting for investors.
Lastly the platform started another Seedrs campaign. With their third crowdfunding campaign the goal is receive money for their expansion to Germany and United Kingdom. So, whomever wants to be part of the company itself is invited to invest via Seedrs.
#3 Mintos recovery from Russia
Due to the war there are heavy sanctions on Russia. It seems impossible to get money out of Russia and repay the principal and interest on Russian loans.
But it only seems the way. There is a way out which depens mainly on the need of Russian Rubels. Technically the loans are repaid in Russia and transferred to the Mintos-Servicer bank. Whenever someone needs Rubels the exchange from EUR into is RUB allowed and repayments are coming back to the platform. Until now this process is limited to 10 million RUB per month which equals about 80.000 to 130.000 depending on the exchange rate.
Mintos now asked their investor in a poll, if they would accept higher costs – up to 20%. The blogpost says, that there seems to be a way to pay out more. Therefore a Special Purpose Vehicel (SPV) has to be implemented which is causing costs as well as the transaction costs.
I will follow the end of the poll and how Mintos investors decided. Maybe this way is a good example for other P2P platforms to follow and receive outstanding Russian principal and interests.
Up to you – What is relevant for you?
Well, I was happy to read from Reinvest24 that week. After their first comment I was some kind of alarmed because there is no need to disguise facts. However, Reinvest24 decided to go that way for their reasons. And now I am really satisfied with their update. To be honest, there are no new facts in the update, but I think it is a good way of communicating with your investors.
What was your most interesting fact this week? Any news with a huge impact on your P2P portfolio?
If you want to talk about P2P lending just join my small Telegram Channel.
https://p2p-lending-at-its-best.com/wp-content/uploads/2022/05/P2P-News-CW17-Moldova-Update-from-Reinvest24.png
200
500
Tobias
https://p2p-lending-at-its-best.com/wp-content/uploads/2019/05/logo-190522.png
Tobias
2022-05-05 07:03:49
2022-05-05 06:16:53
CW 17 – Top #3 P2P News: Moldova Update from Reinvest24, EstateGuru expansion and Mintos recovery from Russian loans