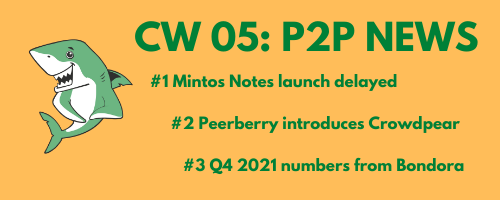 CW 05 – Top #3 P2P News: Mintos Notes, Crowdpear, Bondora Go and Grow
Robocash investors should read it, as the platform adjusts their interest rates; finfellas hosts event on P2P lending and Income has a new LO – that is what I want to talk about this week!
Welcome to my latest P2P News.
#1 Mintos Notes launch will be later in 2022
It seems like there is no single month without any bad press from Mintos. In January it was mainly Wowwo. And now Mintos published a blogpost about the delay of Mintos Notes. As a reason Mintos said the following:
The initial plan was to launch Notes on Mintos in Q4 2021. We were on track and had important arrangements in place, but faced unforseen limitations in some EU countries. These limitations are a part of practices established in the local tax and institutional systems that are not yet fully adjusted for the needs of relatively new fintech products (such as Notes). Hence, we were forced to postpone the launch until later this year.
Well, honestly: This could be anything and nothing. And the delay to "until later this year" seems like there are some bigger problems to solve.
I will stay invested, but I am watching the situation. Loan originator after loan originator drifted into problems over the last nearly two years and somehow Mintos is not able to recover from their problems. Hopefully they will get their stuff done to make investors some months without any bad news. That would be great 🙂
#2 Peerberry goes Crowdpear
Currently I am not invested on Peerberry. The platform rejected their application for the IBF license in Latvia and moved their headquarter to Croatia. I do not know the platform, to be honest, but this step seems a little bit like hiding.
Now Peerberry announced they will launch a new crowdlending platform under the Lithuanien license. Wow – what a step!
I am looking forward to it. But until then Peerberry is only on my list for the next platforms. I am sorry, but currently there are other options more attractive to me. Also I want to be invested everywhere my salary does not makes it possible.
#3 Bondora Go and Grow nearly hits pre-covid level
In their latest financial report of Q4-2021 Bondora reports quite impressive numbers. They call 2021 "a rebound of a shocking 2020" which describes things very good. After the whole P2P industry struggled Bondora was one the P2P platforms acting quite early.
Meanwhile Bondora nearly made it back to their old numbers. After adding Spanish loans back to their portfolio they are shortly before aiming for the own record regarding the number of published loans. In their Q4 2021 numbers you will see, that Spain has currently only a share of 8%. Back in the beginning of 2020 the share was about 23% of their whole portfolio. It seems like there is a big space to expand for Bondora.
If you re interesting in learning more about Bondora Go and Grow, please check my review here!
Up to you – What is relevant for you?
Personally there were only good news this week. Yes, also Robocash with lower interest rates is a good news. From my point of view this shows that the platform has a feeling for the market. Interest rates are dropping everywhere, so it is great to know that investors have the chance to invest at 9% – instead of cash-drag.
What was your most interesting fact this week? Any news with a huge impact on your P2P portfolio?
If you want to talk about P2P lending just join my small Telegram Channel.
https://p2p-lending-at-its-best.com/wp-content/uploads/2022/02/P2P-News-CW5-Crowdpear.png
200
500
Tobias
https://p2p-lending-at-its-best.com/wp-content/uploads/2019/05/logo-190522.png
Tobias
2022-02-03 07:03:24
2022-03-12 05:25:45
CW 05 – Top #3 P2P News: Mintos Notes, Crowdpear, Bondora Go and Grow