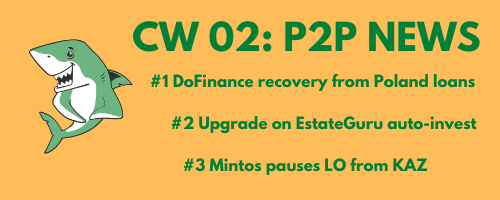 CW 02 – Top #3 P2P News: DoFinance Recovery, Update on EstateGurus auto-invest, Mintos pauses LO from Kazahkstan
DoFinance Recovery, Update on EstateGurus aut-invest and Mintos pauses loan originators from Kazahkstan- that is what I want to talk about this week!
Welcome to 2022 and welcome to the latest P2P News of this week. As I paused this section since CW51 I took three news out of this whole time which influenced my portfolio.
#1 Recovery on DoFinance
Right before Christmas DoFinance offered me a bitter pill as a present which I have to take. Please believe me, I am absolutely aware of the risks when investing into P2P lending. It is not my first loss and it will not be my last. What really drives me is the way how DoFinance acted here over the last 2 years.
Covid hit a lot of companies hard – also in the P2P sector. From the first months on I would have been happy about any kind of communication from DoFinance, but there was none. By mid of 2020 there was a really bad webinar, where someone explained that things are not working out. I asked when my investments will be refunded, but only got the answer that due to their new conditions I ll have to wait another year until the buyback will act.
Well, okay, prolongig terms was common back than as we have seen it also on Crowdestor, Bulkestate and some more P2P platforms.
Now, another year later DoFinance now celebrates themselves for recovering their overdue Poland loans by 45 to 60%. That is okay and even more than I expected, BUT there is still nothing about that in my account. Yes I know, this DoFinance recovery will take time, but I was promised last year that after 270 days I will get my money back.
Do you understand what I am trying to say? Get your fingers off any platform communicating that bad. It is horrible and it is not the fact that I will lose money here. They would have done ways better by communicating with their investors. Their blog seems to do that, but most of the bloggposts back then were published during late 2021. This is not trustworthy – this is bullshit!
#2 EstateGuru updates their auto-invest
I am not invested on EstateGuru but they have been in the P2P news over the last weeks for several reasons. I would like to concentrate on the latest update of their auto-invest today. As you guys know the auto-invest function saves investors a lot of time, when it is adjusted the right way. For me personally a good auto-invest is crucial to start investing with a P2P platform.
EstateGuru made this update and my good friend Lars dived deeper into it. Please check out his blogpost about it. Just switch the language to English and the text will be translated from German into English. He kept it short and very informativ. This is why I does not wanted to hide it from whether you re EstateGuru investor.
What is new? EstateGuru now offers three types of strategies to invest in. The first two strategies (consrevative and balanced) are automated strategies based on their numbers. Investors only need to push the button for adjusting their auto-invest and leave as their money will be invested after the strategy. With the third one investors are able to adjust their restrictions manually and influence the investment more relating to their different personal goals.
However, it sounds like a good update and investors should definitely check their account soon to use them!
#3 Mintos pauses loans from Kazahkstan
Since a little bit more than two weeks there are upcoming unrests in Kazahkstan. I am not able to rate them as I do not know nothing about the country beside their geographical situation. As a reaction to protect investors money Mintos now removed several loan originators from the primary market. On Mintos there are the following loan originators offering loans from Kazahkstan:
GFM
IDF Eurasia
Jet Finance
LF Tech
Sun Finance Kazahkstan
Within their action Mintos removed the loans not only from the primary market, but also paused the loan originators being part of their investment strategies. Also there will be no new loans on the platform until the situation cleares up. Mintos furthermore gives a short overview about the unrests:
Protests in Kazakhstan started as a peaceful response to the surge in fuel prices after the government doubled the cost of liquefied petroleum gas (LPG) to about 100 tenge ($0.22) per liter. Before the country's president Kassym-Jomart Tokayev reacted to recall the decision in an effort to curb the unrest reducing the price of LPG to 50 tenge ($0.11), the protests with a hot spot in Almaty spread nationwide, taking a destructive turn with urban and human casualties. What started as consumers' reaction to price increase transformed into a social reaction against the government and the political system.

All financial institutions are suspended for work on 6 January, banks are closed and it's not certain how the next days look in regards to this.

The nationwide state of emergency with a curfew is declared to last until  January 19, while it's not clear what are the expected developments.
Until now there are no more reactions from other platforms with loan originators in that region like for example Robocash.
Up to you – What is relevant for you?
This week is very personal. DoFinance has always been a platform I liked after getting to know several persons on the P2P Conference in Riga back than. But I should have been more carefully. After most of them left the company this should have been a warning sign for me – which it was not for me. So personally I am really disgusted from the DoFinance recovery, but also from myself. Therefore: Learn and rise for the next fraud 🙂
What was your most interesting fact this week? Any news with a huge impact on your P2P portfolio?
If you want to talk about P2P lending just join my small Telegram Channel.
https://p2p-lending-at-its-best.com/wp-content/uploads/2022/01/P2P-News-02-DoFinance-Recovery.png
200
500
Tobias
https://p2p-lending-at-its-best.com/wp-content/uploads/2019/05/logo-190522.png
Tobias
2022-01-13 07:03:51
2022-01-11 05:06:21
CW 02 – Top #3 P2P News: DoFinance Recovery, Update on EstateGurus auto-invest, Mintos pauses LO from Kazahkstan