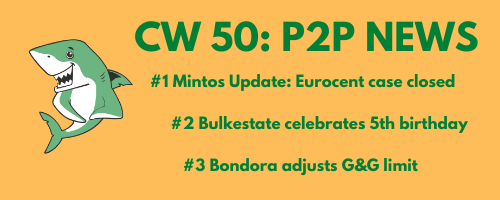 And welcome to another P2P news post. This week everything seems to be dealing with growth. So lets' dive into the latest news!
#1 Mintos Update: Eurocent case is closed
In 2017 and 2018 Mintos reported about Eurocent having struggles to repay the loans. As a consequence the loan originator was delisted soon and since then investors had to wait what will happen with their money. Last week Mintos informed investors about the end of this case – and no more repayments.
This shows that investing into P2P lending is still risky. It shows that interest rate is never guaranteed and investors have to have an understanding of what they are doing.
Does this loss affects my overall opinion on Mintos? Nope, not a single second. Until last week Mintos was able to recover about 50% of the outstanding sum for their investors. The rest is risk – and totally okay in my eyes. Personally I am not one of them, but it gives a short taste of what might happen soon.
It took about 5 years to end this case with Eurocent, who had an outstanding amount of 350kEUR. That is pretty tiny. But let's see how things will turn out with Finko, Capital Service and all the other loan originators being in recovery at Mintos and having millions of investors money outstanding.
#2 Bulkestate celebrates 5th birthday
It is a long time ago, when I met the team of Bulkestate back in 2019 on the P2P Conference in Riga. Afterwards I started my investment there and until today I am quite happy. During the pandemic crisis Bulkestate struggled – and informed their investors about what was going on. Something I really liked as not any platform was acting like this.
Now it is time to celebrate their fith year in business. They started on 12th of December in 2016. Since then Bulkestate funded 134 different projects, had not a single loss until today and about 8.500 investors. Therewith the P2P lending platform is small compared to the big ones like Mintos, Bondora or EstateGuru – but a great alternative and add-on in an diversified P2P portfolio.
In their November blog update Bulkestate again reflects on moving on under the European Crowfunding regulations. I really happy to hear about that as it will probably make the platform more transparent for their investors. Let's see how things will be picked up and executed the next months.
#3 Bondora adjusts their 400EUR-limit
It has been a topic since month – the 400EUR max investment per month on Bondora. It does not really affect usual investors, but you always have to take a second look on what are you doing when taking money out of Bondora. That was probably the reason Bondora restricted it to 400EUR per month.
Now Bondora adjusted this limit to 1.000EUR per month, which is great news. It gives investors more flexibilty and is a great sign of growth. Like I reported in my P2P News Bondora entered the spanish market again and is nearly on the same volume like they were before covid hit the world.
Great news – I will keep investing with Bondora Go and Grow and really happy to receive more flexibility
Up to you – What is relevant for you?
It is game time again – you not that phrase? The Chicago Bulls always shouted in their huddle before a game "Which time is it? It's game time – huh". I just saw the Netflix-docu about Michael Jordan and his Chicago Bulls again. It is absoltely great. On the one hand I am remember of my early days when I was 15-16 years old and on the other hand I am probably today much more interested in how he did this amazing performance. Absolutely recommend to watch it when you have Netflix.
I hope I was able to pick some interest news for you. I am thinking about adjusting those new and pick some more news to cover more of the overall topic including reports about P2P lending platforms I am not invested in. What do you think?
If you want to talk about P2P lending just join my small Telegram Channel.
https://p2p-lending-at-its-best.com/wp-content/uploads/2021/11/P2P-News-CW50.png
200
500
Tobias
https://p2p-lending-at-its-best.com/wp-content/uploads/2019/05/logo-190522.png
Tobias
2021-12-16 07:03:51
2021-12-17 04:45:41
CW 50 – Top #3 P2P News: Bondora adjusts 400EUR limit, Eurocent is done, Bulkestate 5th birthday