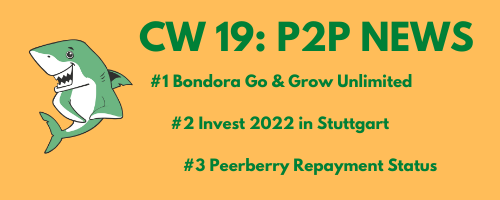 CW 19 – Top #3 P2P News: Bondora Go and Grow Unlimited, Invest Stuttgart 2022 and Peerberry repayment status
Bondora Go and Grow Unlimited was launched last week. The account has no deposit and withdrawal restrictions for investors. Furthermore we are looking at the Invest-Fair 2022 happening this weekend in Stuttgart, Germany as well as on the latest Repayment status from Peerberry. Have fun!
#1 Bondora Go & Grow Unlimited starts
One of the best known P2P lending platforms published a new product: Go and Grow Unlimited. The reason is pretty simple: There is a lot of need!
Over the last two years and even longer we have seen several limits with Bondora Go and Grow. Sometimes investors were able to invest 1.000EUR per month, especially during the dynamic times this limit was reduced to 400EUR. And that is also where the new limit is set now.
To solution for investors wanting to invest more is Bondora Go and Grow Unlimited. Officially the interest rate is only 2%, but investors are able to deposit and withdraw limitless amounts of money at any time. Currently the interest rate is 4%, but Bondora says in their agreement they are always able to adjust this rate without any further notice.
Investors need a Bondora account to use Bondora Go and Grow Unlimited. In their account they have to go to "Go and Grow" and than activate Unlimited. that is quite easy by checking some agreements about the product and after three clicks the account is there.
So, where is the advantage for investors?
Honestly for me there is none. Before covid hit the world Bondora was often used as a day money account. Investors paid large sums to their account to make their money work for them until they needed it. This "money tourism" was restricted by the deposit restrictions which Bondora invented in 2020.
Now Bondora opened their gates for those investors again. And I am really excited what Bondora and their investors will experience. As I am only investing up to 400EUR per month there is no way this new products influences me – or might be interesting for me.
#2 Invest-Fair 2022 in Stuttgart
The "Invest"-Fair in Stuttgart, Germany developed to an inoffical P2P-fair. Usually this event is organized by the Börse Stuttgart and attracts several banks, funds and other creators of financial products. Mainly through Kolja and Lars the topic of P2P lending found its way to Stuttgart.
Meanwhile, after about several years of helding the fair including alternative investments like P2P lending, this event has its own blogger lounge.
If you want to meet Kolja or Lars, just go the website of "Invest Stuttgart" and get your ticket. It will take place on 20th and 21st of May in Stuttgart. You will find any needed information on the website.
There are also several P2P platforms on the fair. Some of them will have a booth, others are just there as guests. So it is a good idea to visit the Invest in Stuttgart and get in touch with the P2P lending industry.
#3 Peerberry repayment status
I am still not an investor here, but as I really appreciate their work I want to include the progress in my weekly news. Since my last news about Peerberry they were able to repay another 2,1MEUR to investors. You can find their current status on their website in the blog session. Usually those blogposts are marked yellow with a big "PROGESS" in it.
I do not know what to say here additionally – it is just a great performance!
Up to you – What is relevant for you?
This week the news were like everytime during the month. In the beginning and at the end there are mostly a lot of news, but inbetween I always have to research for them. Especially due to the Invest Stuttgart it looks like investors and platforms are really looking forward meeting again.
I will not be there for personal reasons. But I will manage to be there next year hopefully in an even bigger format.
What was your most interesting fact this week? Any news with a huge impact on your P2P portfolio?
If you want to talk about P2P lending just join my small Telegram Channel.
https://p2p-lending-at-its-best.com/wp-content/uploads/2022/05/P2P-News-CW19-Bondora-Go-and-Grow-Unlimited.png
200
500
Tobias
https://p2p-lending-at-its-best.com/wp-content/uploads/2019/05/logo-190522.png
Tobias
2022-05-20 04:20:23
2022-05-20 04:20:23
CW 19 – Top #3 P2P News: Bondora Go and Grow Unlimited, Invest Stuttgart 2022 and Peerberry repayment status