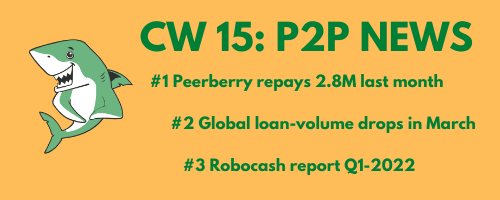 CW 16 – Top #3 P2P News: Peerberry strong, Global volume drops and Robocash reports 1.5MUSD revenue in Q1
Robocash revenue at 1.5MUSD in Q1-2022 – sounds bad, but probably is not. After publishing their numbers from Q1-2022 Robocash investors should have a strong sign for the future. While the RUS and UA business drops, loans from the Philippines increase while Kazhakstan is still the leader in their portfolio. Welcome to my latest P2P News.
#1 Peerberry repays 2.8M last month
Peerberry is known to most of us as the "huge" looser of the Ukraine war. About half of their portfolio was generated in Russia and Ukraine. Due to the sanctions and the war it has been pretty challenging to forecast, when there will be any kind of repayments.
As I mentioned in my last Income Report Peerberry decided to skip the Force Majoure and repay the money to investors, which is currently on hold. After using a lot of their own cash reserves now the number hit a new high.
During April the forecast said they repayment will be 1.3M€. Currently the tracker is at 2.8M€, which is more than doubled amount out of the forecast.
Furthermore Peerberry announced, that their longterm loans from Ukraine will be repaid with the normal schedule again from now on. That is pretty good news – especially after everyone was watching the situation that closely here!
#2 Global loan-volume drops during March
Due to the war between Russia and Ukraine the worldwide volume dropped dramatically. While in February the peak reached about 417M€, it dropped in March down to 225M€ as ToDoCrowdlending reports. That is a decrease of 47%, looking like another dump in the statistics after the covid-bounce.
Why is this number important for investors?
First of all ToDoCrowdlending "only" observes about 50 to 60 platforms mainly from Europe. Therefore the number is very relevant for everyone who is living over here. Additionally we have seen during the covid crisis that drops are "normal" like they are at the stock exchanges.
On a short-term view this drops means rising interest rates, but less published loans. Therefore it might happen, that investors have to deal with cashdrag. As long as you are not focussed on a day-by-day income this problem should solve itself within the next weeks and months. Unsecurity always leads to macroeconomical savings – and less loans.
#3 Robocash reports a smaller net revenue for Q1-2022
One of the very strong advantages of Robocash was the company behind them, who earned a lot of money. Now as a result of the current geopolitical situation and the indirect involvement Robocash reported only a revenue of 1.5MUSD during Q1-2022.
Something to worry about?
In their report Robocash stated regarding the low revenue:
*correction notice: The Group had increased reserves in Russia in Q1 as collection of existing debt slowed down in March, negatively impacting net profit. The company tightened scoring in order to improve collections in Q2 and offset the negative effect of accumulated reserves.
That is something I completely understand. There is no need for me to act here and I will stay invested. Let's see how the situation goes on and how the P2P industry including Robocash will react on it.
Furthermore there are several platforms and marketplaces, who re not able to have a positive revenue during Q1. Therefor this note is something investors have to to notice of, but from my point of view nothing to worry about at the moment.
If want to know more about the platform, please check my Robocash Review.
Up to you – What is relevant for you?
What was your most interesting fact this week? Any news with a huge impact on your P2P portfolio? If you want to talk about P2P lending just join my small Telegram Channel.
https://p2p-lending-at-its-best.com/wp-content/uploads/2022/04/P2P-News-CW15-robocash-revenue.png
200
500
Tobias
https://p2p-lending-at-its-best.com/wp-content/uploads/2019/05/logo-190522.png
Tobias
2022-04-28 07:03:58
2022-04-26 05:04:43
CW 16 – Top #3 P2P News: Peerberry strong, Global volume drops and Robocash reports 1.5MUSD revenue in Q1