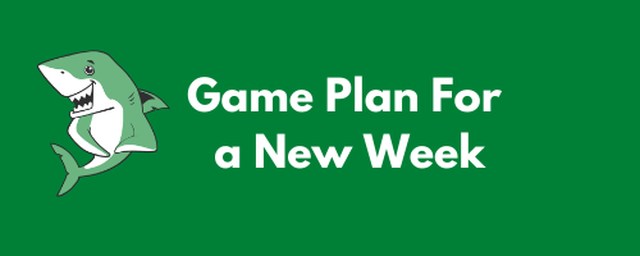 Welcome to another week. It is again game time, so let's make the best out of it. Do you already made plans for the new week?
Years ago I stumbled into Joe Duncan from @before5am on Instagram, who is constantly doing a sunday-evening post about planing your new week.  I tried it several times and I found a system which worked for me. But I was not able to keep the habit and forgot about it – damn it!
Just last week I saw the post again on Instagram and made the plan for last week. This week I made it again and it feels great. Starting off on monday morning usually before 5 am is a good feeling. But since I already planned the week I know what to do and focus on. It is like a jumpstart into the new week!
Review of my last week
It was okay. But "okay" is not what I am aiming for. So I checked on Wednesday and Friday what the problem is/was why I was not able to get my things done. And I found something very important for me: My tasks are ways to big.
Maybe you remember, but I already had the same problem several weeks ago, when I was planning my week. So now I found out that I am planning to much into a day. Working with my "5 Critical Tasks Per Day" is great, but that does not mean to fill up my day with more work than 24 hours.
Therefore I made my plan for the next week in smaller pieces. There are five critical tasks per day, which have to at least last for 30 minutes, but maximum for 90 minutes. The total of one day should below 6 hours. Last week on Thursday I planned and was not able to get it all done within 11 hours. That is a bad plan.
#1 Focus on my business
This goal is not new, but as there is only week to go until my holidays, I need to finish to bigger orders this week. During my holidays I do not want to work for my clients beside some writing.
So I am talking about writing 5-6k words I need to finish this week with the highest priority. Doable? Of course, but I need to put that on the first rank of my last.
#2 Make a plan for the rest of this year
When it comes down to planning, I am an expert. But executing the plan is not what I am good at. Therefore I want to make a plan for five different business-topics for the rest of this year – and that's it with planning! I want to know what to do and do not think about it another time.
Maybe that sounds a bit unflexible, but when I for example know to write 30k words during August on of my daily tasks will be to write at least about 1k words per day. From Monday to Sunday – no exceptions!
This is what I want to improve over the second halt of this year: Executing the plan! And is there a better time to get used to it, than during m holidays? Of course it sounds wired, but making it a habit to wake up early and work for some hours will get me on track. A track I do not want to leave again afterwards.
#3 Decision about my next book
During August I want to write a new book. As I haven't found a topic by now I want to use this week to find one and prepare it for my holidays. Maybe I will have access to the internet, maybe not – I do not know. So I need to prepare everything in advance.
The #1 thing that moved me last week
Sometimes there are days and weeks where you might doubt yourself. I had it over the last 4-5 weeks, also I maybe did not talked about it with my wife or friends. It felt like I was getting (or was already) weak and lazy. For no reason to be honest. My orderbook is full of stuff to do and also in my fulltime-job I have two very interesting projects, which I really like to fulfill and make them a success.
The turning point came last week, I cannot really tell you when. Maybe it was the chat with a friend or the realization that I was able to climb the Stubai Alps without intense training…or whatever! Probably it was something from everything which made me thinking: You are lazy af, BUT you are just weak and lazy. You are capable of what you have planned. So it is up to me to get things done!
Since this day things are running really good. Sounds wired as the daycount is pretty small. Maybe you know the feeling of making a decision and feeling it is the right one. You do not want to discuss it again or even skip it. It is already decided and you just need to execute it.
That is what I am feeling and it is what moved me this week.
The best investment of the week
By the beginning of this week I received a pretty huge bill. And I was like: Heck, I need to sell some stuff like stocks to pay it. But I waited and got my head down. And I was thinking what different possibilities there are to make the payment work in time (got 30 days).
And I found some ideas. Additionally I received two payments which I hadn't on my list – things are running!
Therefore the best investment this week was to NOT SELL things immediately, but think about different solutions to the problem. Unfortunately there were no other investments into my financial freedom this week, but my decision still feels great.
I am wishing you a great week. For me it is the last one before my holiday, which I will spend in Denmark and Sweden. I am really looking forward to it, especially for the reason to keep my new learned habits and proove them against my daily life.
Make every day count in your new week!
https://p2p-lending-at-its-best.com/wp-content/uploads/2021/06/Game-Plan-For-a-New-Week.jpg
256
640
Tobias
https://p2p-lending-at-its-best.com/wp-content/uploads/2019/05/logo-190522.png
Tobias
2021-07-19 07:00:56
2021-07-19 18:31:41
Game Plan CW 29: Jumpstart into the week!