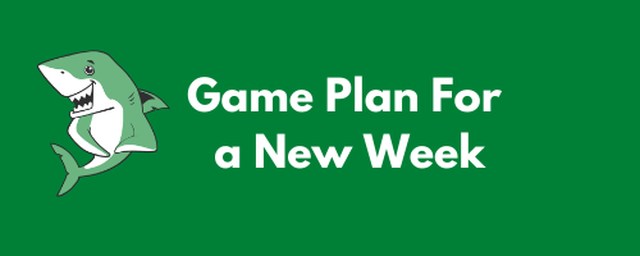 Game Plan CW 25: Learning to say "no"
Welcome to another week. Today I want to give you a short overview of what will be important for me this week. But before starting off I would like to shortly talk about one point: Your pension!
Over the last days and weeks several politicians in Germany needed some attention and said/wrote horrible things about our pension. Currently employees need to work until they are 67 until they are able to retire. Whereas one of our political parties wants to increase the taxes on capital income another just mentioned that employees have to work until they are 68. Not enough another institute calculated newly and put the retire-age up to 70.
So, to anywhom reading this: If you do not want to work until you are 70 (and as a male live until 79,8 in Germany), you need to start investing! I wrote an blogpost about it, which was published yesterday. Have fun while reading it, also the topic is anything but not fun.
Review of my last two weeks
My business ain't running like I want it to, but tracking my nutrition and getting my workouts done really works great. Gyms in Germany are open again since 2.5 weeks which I am very grateful for. Working out at home is possible, but I don't really like it and therefore skipped it more often than I should have done it. So, sports okay, business not.
The last weekend we headed to the shore with the kids to enjoy a nice weekend. As it was our 7th weeding day the days were fully packed with action for the kids. I was able to work a bit, but somehow I allowed myself to let things slide having all kids around me.
But, this turns out to become a very important point to me: I started listening to a new audio book called "Relentless" from Tim Grover. I first met him in a podcast episode from the Real AF podcast from Andy Frisella. Unfortunately never heard of him before – but it hit me like a truck, when I listened to him. He was working with Michael Jordan, Kobe Bryant and several more athlets and business people coaching them to success.
I really like his book and there is so much in for me. Especially the phrase: "Execute over and over again". Mastering the habits and not taking care about the other influences – well, that is exactly my topic/problem.
Goal #1: Focus on my business
After finishing the first orders there are some to go until the end of June. Therefore I made a list and will work on it every day for at least one hour. Still the target is to finish all tasks until 30th of June to start of with a blank desk into Q3.
Goal #2: Start my running-schedule
Running has never been the problem. But when it comes to altitude I need to prepare myself. As we are heading towards August/September this year it is time get more precise on training. I am following a plan which should make prepare me to run about 70 km with 5.000 HM of height in it.
Goal #3: Work on my SEO-skills
Throughout the year I collected quite a lot of resources about SEO in 2021. Unfortunately I never made it a priority to work those sources through and implement, what is valueable for me. Therefore the task is to work through a guide of about 100 pages and make my own concept out of it.
The #1 thing that moved me last week
In my last GamePlan I wrote about the "habit" to invest daily. Also I havent wrote a GamePlan over the last two weeks I kept the habit. And meanwhile there is a additional stock of around 900 EUR making me approximately 65 EUR of dividend income the next 12 months, which is about 5,50 EUR per month.
Maybe not everyone is able to afford those 900 EUR, but also 200 EUR are something like a big step forward. Also it "looks" funny and seems not to have any influence – your time will come. Don't give anything about what others say. Those are my 5,50 EUR for the rest of my life and no one will take them from me (except the company stops paying dividends 🙂 ).
The best investment of the week
It is so clear to anyone, but I forgot about it: The word "No". Just last week I experienced a situation where I recognized that someone wanted to hand me his priorities over. And I said yes in the first moment. But realizing it, I went mad for myself. Quite often I tell my wife to not take care about the opinion of others – and now I was doing it the exact same way. Sorry, but this really felt horrible.
There are a lot of nice people out there, taking care of me and supporting me. And I am allowing someone to place his priority in my life who doesn't belong this circle of nice people? Heck, calling him afterwards and denying his priorities was one of the best invested time last week. Afterwards I took another 30 minutes to learn saying "no" again and get rid of several stuff of my desk which is not my priority.
Wishing you a great start into the week – Make it count!
https://p2p-lending-at-its-best.com/wp-content/uploads/2021/06/Game-Plan-For-a-New-Week.jpg
256
640
Tobias
https://p2p-lending-at-its-best.com/wp-content/uploads/2019/05/logo-190522.png
Tobias
2021-06-21 07:56:44
2021-06-21 07:57:09
Game Plan CW 25: Learning to say "no"