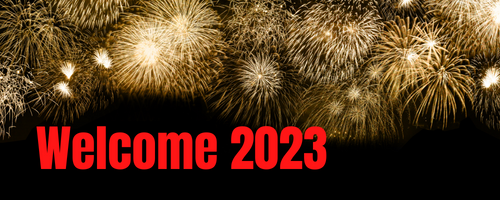 Welcome 2023 – Happy New Year to all of you guys. I am wishing you all the best for this new 2023!
It is about one year ago I promised to myself to go hard in 2022. And it is about two years ago when I promised myself to really rock 2021. And it is about three years ago when I made the resolution, to hustle hard in this blog.
Well, there was always something which I made up to be "the one" to distract me from my goal. So what am I doing wrong? It does not matter what "this one" was in particular. I promis you: It was nothing special, outragous or whatever. Probably it was just a very good excuse, which I already forgot about.
And now I am promising to do it again in 2023?
What will change in 2023?
Like every year I am very good in planning. But as I already mentioned I was able to stick to the plan over the last years. Especially with this blog.
Why? It is not a lack of interest as I am reguarly moderating the finfellas events. Yes, I am paid a small amout to do it, as it is quite a lot of work to prepare those panels. But money is not my motivation there to be honest.
Is it mayb a lack of time? Honestly not. I nearly watched all of the "Suits" episodes on Netflix with my wife and had time to educate myself about Harry & Meghan. So, no, there is no lack of time when I am able to waste it with stuff like this.
For myself I figured out, that it is pretty hard for me to find some "soft topics" – like this blogpost – to write about WHICH ARE STILL EDUCATIONAL. To be honest, most of them in the past weren't.
I am a huge fan of numbers and statistics. This is why I want to change my style of writing here. It will be much less about me, but loads more about the topic of P2P lending. I love this kind of investing for several reasons. But I don't want to bother you with like-minded fancy stuff. I like to dig deeper on the possibilities and develop a blog of passive investments over the year of 2023.
What are my goals for the new year?
Over the last years I made up my mind weeks in advance before starting into the new year. And I worked out huge excel sheets to plan out at least every month with individual goals.
Guess, it does not worked.
For Welcome 2023 there are only two goals, I want to to follow with this blog and five goals over all.
The less interesting are getting fit to run the Transalpine Run this year, save a special amount into my investments and go on 8 dates with my wife. The more intesting for this blog are the following two:
work on this blog every workday (here in Germany it is Monday to Saturday)
increase my passive income to 1,000 EUR overall per month
I know, I especially had the goal of the passive income before. Until now I have not hit it, wherefore it is still my goal. I will let you know in my next blogpost on sunday, where I am at currently. It should be around 120 – 150 EUR monthly at the moment, but I do not know exactly.
And this is now the end. I have done my P2P part for today, will make a podcast episode out if it in a minute and then care about the other goal.
I am wishing you once again all the very best for 2023 – I will take it as simple and easy to follow as possible and hope you will find a way to figure it out for yourself.
Regards and please welcome 2023,
Tobias
https://p2p-lending-at-its-best.com/wp-content/uploads/2023/01/P2P-Welcome-2023.png
200
500
Tobias
https://p2p-lending-at-its-best.com/wp-content/uploads/2019/05/logo-190522.png
Tobias
2023-01-02 04:11:55
2023-01-02 04:11:55
Welcome 2023