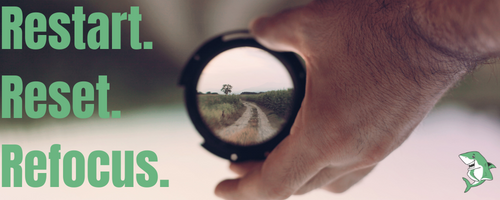 Restart. Reset. Refocus. It is as simple as that to be honest.
My last created piece of content has been published here back in the beginning of June this year. That is quite bad as a wannabe-regularly-publishing blogger.
However, is has not been the first time in my life I stumbled. And it probably won't be the last time. Also I really don't like it,  I need to accept it and adjust my stuff.
When life gets blurry, adjust your focus
To be honest several things had been going on over the last months. And most of them weren't bad. So it was a lack of focus I didn't created new content here.
The same way I missed my focus here I also handled my investments – pretty poor.
And when I realized it was the moment I decided to refocus again. This blog and this podcast had always helped me to stay on track with my investments, my side-business and my finances.
Therefore I will increase my work here again as it is the best tool for me to take of my financial wellbeing.
Adjustment of investments – none, but challenge it
Following my content until now – thank you very much for your time and attention – I often talked about my diversified portfolio. Especially over the last months there have been very different performances.
Of course the main topic here will stay in P2P lending. But I really like the idea of refocusing the content on more income-producing investments.
Therefore I will present a little bit more of my portfolio. I translated a blogpost from Luis Pazos years ago, who created an easy to follow investment plan. I am following this one since a while and want to introduce it to you within my portfolio.
Additionally I am buying shares, inspired by Alex Fischers' "Dividend Alarm". More to come about this later on.
So why not challenge the P2P lending part against those numbers? Of course P2P lending will perform very good at the moment. But starting during the begin of recession, which we probably have since the war began, might be a good moment to rethink and focus on my investments.
Adjustment of content – yes
In the past I wrote about several topics. It mainly about my personal financial journey and a lot of mindset stuff. Also this is important and crucial for my journey I would like to reduce the share of it to only a few times per year.
There is so much content to cover in the field of P2P lending, whereas I would like to focus here. The finfellas events are giving me the chance to receive huge insights into the industry, which I want to share with you. This is a lot more work for me, BUT it is work I really love. Digging deep and working with numbers statistics is much more fun for me.
Additionally I miss the comparison from P2P lending against others financial instruments. I want to more transparent here and refocus the content to exactly that.
So please expect more data, more statistics and more insights into the industry and comment every time below my blogposts, when I lost this path.
Refocus my personal investments
I do not know where things are going to. But I am always very positive looking into the future. Therefore I think everything will turn out into something bigger and better, also there might be huge pain during the process.
This pain is what I want to feel over the next months and years. I mean, I writing on this blog since nearly four years now, reporting about my personal wealth and wasn't really able to increase it the way I planned to.
As you know I really love Andy Frisella for his content. Just last week he posted a very interesting comment on how to create momentum in his Andygram:
If you truly want to create positive momentum in your life…
You have to do it through pure force and perseverance.
[…]
The skill of creating momentum through sheer refusal of compromise.
Developing pure discipline through force.
It doesn't matter how bad it sucks or how hard it is…
If you put one foot in front of the other…
…and do it consistently with zero compromise…
You'll eventually have that positive shift you are looking for … and in less time than you think too.
If you build yourself into someone who can create momentum on demand…
…it's really hard to lose.
And this is, what I want my life and my discipline look like.
Weekly schedule
So, here is what I want to present you every week:
Tuesday – optional between a book review or a platform review
Thursday – mandatory P2P News every week published as a blogpost and a podcast stream
Sunday – mandatory P2P related content with more insights on the topic
You will hear from me at least two times a week.  And if you want to follow me a little more, feel free to join me on Instagram.
https://p2p-lending-at-its-best.com/wp-content/uploads/2022/10/Restart.-Reset.-Refocus.png
200
500
Tobias
https://p2p-lending-at-its-best.com/wp-content/uploads/2019/05/logo-190522.png
Tobias
2022-10-24 04:19:56
2022-11-02 10:17:34
Restart. Reset. Refocus.