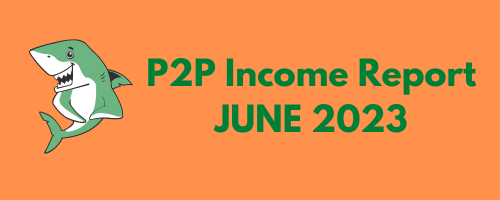 P2P Income Report June 2023
New Income Report incoming – it has been a while since the last time. So let's do not make arguments or excuses, but start with the latest report from June 2023.
I will make those reports reguarly again in the future, but maybe change the format a little bit. In my last report I was focussing on four platform, but somehow things went another way for several reasons. Today I will start with just presenting the short facts about my investment and its return from every platform I am invested in.
Overall statement
As you guys know I lover diversification. Due to that I am invested on several platforms, but not with huge amounts. As already mentioned this is for diversification reasons, but also has the idea behind it to show you results and share my experience with it. I need to apologize, as I was not good at posting my statements reguarly. This sucks and I will be a better blogger in the future. Promised!
So, my overall investment in P2P lending is roughly about 15k on currently 12 platforms. Some of them are performing good and are trustworthy from my point of view. This is why I invested a little bit. Others are currently to be tested and have only about 100-200 EUR of investment. To be transparent I will give you a rough idea, where my money is invested.
Bondora Go and Grow: 6,71%
Well, Bondora is still running. There have been some rumors in the past, that Bondora did something wrong and/or has to work on their company. But after the dust cleared and Pärtel gave the latest information it was more or less an order for a lot of estonian companies and nothing especially against Bondora.
However, I was not very good informed at that moment as we were on holidays. But the moment I realised the rumors were already gone and nothing really happened. About 10% of my investment in P2P lending is invested in Bondora Go and Grow.
Bondster: 9,60%
Compared to my last Income Report I reduced my investment here. This has especially to do with the russian/ukrainian investments here and Bondsters policy to recover them. Nothing to worry about from my point of view, but somehow not the way I wanted a huge amount of my investment to stay with. Currently about 11% of my P2P value is invested here.
Bulkestate: 0,00%
A lot is going on behind the scenes – if you believe the chat and maybe in miracles. I hope to see someone of Bulkestate during the finellas event in Riga, but beside a flag there was no one around. For some reason I get the intention, that something is not working here the right way and Bulkestate might be in bigger trouble with their loans.
Another month ends with 0% interest and 0% repayment. Starting the report new I will start to write the investment off for the future.
Income Marketplace: 12,52%
I really enjoyed meeting the Income-Team during the finfellas event. And of course I will stay invested here. From my point of view the user interface is okay, but sometimes a little laggy and too much colours, function and so on. Could be more easy to work with, but I am very simple here 🙂
Currently about 12% of my value is invested here and I think the team is doing a great job. Until the end of the year I would like to increase my investment here.
Iuvo: 0,00%
Another dead platform? For sure not. I met with Boyan from Iuvo online some months ago and he assured me that things are moving on. My mistake was – back at the time when I invested – that there were several loans available, which are now in recovery. It will probably take a lot of time and there is some information about it on the Iuvo blog. Therefore I would like to mentioned Iuvo here, as I am planning to have another try investing here.
Mintos: 0,00%
No, not again 0,00% – of yes, but again it is me who is the reason. I stopped the auto-invest months ago for a valid reason, as I had to rearrange the account. And during that phase I forgot to activate it again. In July there will be income here, also about 40% of my portfolio is in recovery.
I adjusted the auto-invest to only invest into bigger players with a long track record like for example Delfin Group, Sun Finance and 1-2 more loan originators. Currently about 7% of my P2P wealth is invested with Mintos.
Moncera: 7,39%
I started investing here about 1.5 years ago. I cannot really tell you the reason for this decision. This is why the amount never raised. BUT it is working. The interest rate is not really high, but there is a steady flow of interest income, which makes me a little bit happier every month. Currently I am invested here with about 3% of my P2P value.
Monefit: 6,90%
I was invested before the finfellas event. There was a lot of marketing from Monefit during the event, which is why severals bloggers talked about the platform. Until now it is okay for me. You just have to watch out, where you are invested here. Monefit is part of Lendermarket and should be a product to work like Go & Grow for example. Currently only 0,7% of my wealth is invested here.
Reinvest24: 4,48%
Reinvest24 ist restructuring their business. After splitting up with Kirsan the team has working on what is left and focussing on the new things. I already mentioned in my last news, that the first project with Shojin started some weeks ago, which might be interesting for people who are not invested in the UK. I watching on the sideline, what happens and will stay invested. The interest rate at the moment is pretty bad, which is due to the Moldova-projects, where I am heavily invested. All good – keep and wait what will happen.
Currently about 11% of my P2P value is invested here.
Robocash: 11,58%
Well, I am loving this platform for several reasons. But you need to watch out. There are some structural changes with the Robocash Group and the focus changes to Asia. I will of course stay invested, but check reguarly, what happens and how those events are influencing the performance. The latest news said, that the bonus level will be reduced for investors – no good news for my money, but nothing to worry about.
At the moment about 25% of my P2P investment is placed here.
Twino: 5,90%
Honestly I never cared about Twino over the last 1.5 years after the platform struggled with the russian loans. I made some loss back than and forgot to react, as there was no chance to solve the issue. Meanwhile and after meeting the Twino team, I am there again and will try to increase the investment here at least to four digits by the end of this year.
Over the next weeks I will have a deeper look into the platform and try to figure out, how the team and business model changed / developed and how this influences my investment case.
Viainvest: 10,52%
During the finfellas event I had the chance to meet some people of the viainvest team. I really enjoyed the time, also I never increased my investment here. Same topic as with Twino, but the reason here is more the user interface on the platform. It is quite slow and viainvest was dealing with several cash drag periods over the last years. This was why I never increased my investment here. But maybe I have to think about it and give it go to increase to more than 4% of my total P2P investment, where cash drag does not influence the performance that hard.
June's evaluation
That's it for that month. As I already mentioned I am starting off again with a – let's call it quick and dirty income report. I need to work myself into the platforms again, after I lost the lose ends months ago. For next month there are no new investments planned, but checking the content of each platform and renew/update it to the current status.
See you next time!
https://p2p-lending-at-its-best.com/wp-content/uploads/2023/07/P2P-Income-Report-June-2023-2.png
200
500
Tobias
https://p2p-lending-at-its-best.com/wp-content/uploads/2019/05/logo-190522.png
Tobias
2023-07-08 05:06:52
2023-08-08 05:24:46
P2P Income Report June 2023