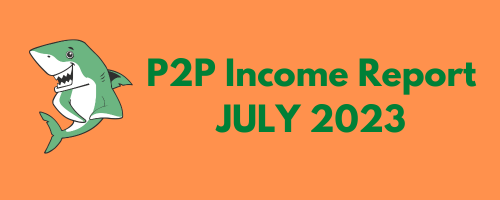 P2P Income Report July 2023
Here we are again in August. July is over and it is time to work out another income report for you. During July the investments into platforms had been small. I was on holidays in Austria and France and did not care about the finances. Therefore everything worked, which has been automated. And nothing worked, which has to happen manually 🙂
So, let's get into the figures.
Overall statement
During running through the Alps in Austria and sitting on the betronian beach in Fance I thought about this blog and what I am working on with it. Several ideas came up and since then I am working on them to improve my content here. There will be more tutorials, more deep dives into the platforms but also the P2P industry, which will take time.
I am a data guy and I really enjoy digging deeper into something trying to understand, what happens and who works on it. Therefore – let's dive into the numbers of July, where I really need to work on 🙂
Bondora Go and Grow: 6,75%
No news here, just ongoing investing at the fixed rate. Meanwhile my kids are looking into their accounts, which are sub-accounts of my Bondora Go and Grow, and realized that automating things and not caring about them has a quite interest yield. During the holidays they checked their accounts again for a long time: "Oh wow, look how much money is already in our account".
My learning: I need to automate more. While there will be no investment when I forget, I will invent standing orders to those investment platforms I want to increase. Bondora Go and Grow is one of them.
Bondster: 9,60%
For any reason my auto-invest is not working properly. I checked it after the last income report in June and set it up new, but it does not invested, also there are fitting loans. Need fo figure it out as manually investing really sucks.
Most of the income here comes from overdue loans. There is only a small share of interest payment from current loans out of my investment portfolio here. I really like to improve it to the change the share again as it does not sound healthy to receive money from overdue loans.
Income Marketplace: 12,52%
Running and running and running…. There had been several information about their loan originators. Sounds quite interesting so far and I really like the hands-on-mentality here.
Iuvo: 0,00%
No news
Mintos: 0,00%
As I already mentioned I made some mistakes here with the auto-invest. I started it again and see, what happens: 1,11 EUR of interest income. It will not really grow fast over the next months, as a lot of my portfolio is overdue. So only a small(er) part of my investment here is working for my financial freedom.
Moncera: 7,00%
And again the investment is working. It is another month with 7,0% interest rate.
Monefit: 6,90%
No News
Reinvest24: 19,9%
During July there had been bigger repayments of overdue loans from Moldova. I am heavily invested here as I reported already last month, which has been the reason for the "low performance". No this locked up into a bigger payment, which skyraises the interest to nearly 20% in July. But that is only a single event and it will of course not stay at that level.
Happy to see that Reinvest24 is working on those issues and investors see results from it. Also those loans are not fully repaid – which is also partwise not the term of ongoing loans – I am confident to see them being repaid in full later on.
Robocash: 11,70%
The Robocash interest last month is strong again. As the biggest platform in my P2P portfolio the interest payment is also quite large. Compared to others the rate of 11,70% is higher, so the influence is quite big. Therefore I decided to leave things like they are and raise other platforms to that level. Of course this will cost me performance, but my "diversification-ego" is very happy with that idea.
Twino: 5,90%
Some platform, same result as last month, no more news.
Viainvest: 25,50%
The phanomen here is the same as with Reinvest24. There were several overdue payments booked into my account. I already mentioned last time, that my investment with viainvest is not very huge. Therefore a missing payment but also late payments being paid in another time period impact the monthly result heavily. So do not overrate the 25% – it is just a single event.
I will need to increase my invest here, to have a more sustainable basis for my numbers.
July's evaluation
It is now August and it is time for me to work on what I though about during the holidays. Currently I am performing quite good with that, but I cannot see it in the figures. But that is usual.
Keeping my head down and working will be the key to maybe get the reward – whatever it will – by the mid of the next year. Until then I will quiten my mind to not expect anything than work.
So, back to work then!
https://p2p-lending-at-its-best.com/wp-content/uploads/2023/07/P2P-Income-Report-July-2023.png
200
500
Tobias
https://p2p-lending-at-its-best.com/wp-content/uploads/2019/05/logo-190522.png
Tobias
2023-08-06 05:49:49
2023-08-08 06:07:06
P2P Income Report July 2023